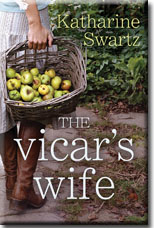 The cover of this book captivated me—those apples, all the greenery, the twigs and leaves on the ground.  I was surprised to find, however, that the main character, Jane, was a New York career woman.  How does the English countryside displayed on the cover connect with a city-based, career-driven woman like Jane?
Jane herself could not figure that out either.
Oh, she knew how she got to the vicarage, and why.  When her teenaged daughter Natalie got into trouble, her English husband Andrew wanted to move the family out of New York and to back to his homeland.  He bought the huge, old vicarage for his family and thought their problems would be solved.
And the three children did adjust well, but Jane slipped into an aimless, hopeless longing for her past life that affected them all.  Then, while moving a slate shelf in the second pantry, she found an old shopping list.  That yellowed slip of paper became a fascination for her…and we get to know its writer, Alice, the woman who lived in the vicarage half a century earlier.  As we follow both Jane and Alice, we see how Alice, too, grappled with life's difficulties.
Of course, Jane does not know what we learn about Alice, but she's doing her own research as her life moves on.
At the end of the book Jane, reflecting on Alice, tells her husband, "There's something so inspiring about a life quietly lived, isn't there?  Without any fuss or fanfare, just simple love and duty. She made a difference, even if no one sees it now, or even cares."
The Vicar's Wife is a somewhat gloomy book that explores motherhood, wifehood, depression, meaning, moving, purpose, and time from two women's perspectives.  Neither woman seems to find much meaning or comfort in faith.  Even so, I recommend it, for we all need vivid reminders of the quote emphasized above.  Besides, the setting is beautiful, the characters are memorable, and the story is gripping from beginning to end.
This is yet another book in the in the 2014 52 Books in 52 Weeks Challenge, and is also linked to Saturday Reviews. 
Disclosure: This book has been provided by Kregel for the purpose of this review; the review represents my own honest opinions.