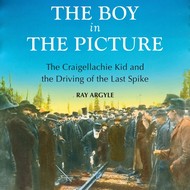 All Canadians know the photograph of the Driving of the Last Spike, the historic moment signifying completion of the great railway that Canada's confederation was built on.  But look closely at the picture.  Who's that boy right in the middle of all the dignitaries, behind the one driving the spike?
He's Edward Mallandaine, known at the time as the Craigellachie Kid.  Ray Argyle, the author, heard the story of the picture and of life along the railways in 1885 from Mallandaine himself:
Eighteen-year-old Edward Mallandaine, always out to do great things, left his comfortable home in Victoria, British Columbia to join the militia.  He wanted to help defeat Louis Riel and his followers in the North-West Rebellion.
So the idealistic, somewhat pampered youth took a steamer to the beginning of the railway, travelled on it as far as it had been built, and then set off across the Rockies, adjusting to real life on the way.  Too late for the rebellion, he ended up carrying mail and supplies along the unfinished railway until it was completed.  This is his tale, of railway crews and Chinese laborers, of theft and high officials, of packhorses and icy cold…and of that famous picture.
Written as a novel, but including informative historical insets and photographs, The Boy in the Picture is a fascinating account of an often neglected part of Canadian history:  the building of the railway in British Columbia.  It is an exciting and inspiring story in its own right besides being well-researched history, and it should appeal to both teens and adults although it was written for "young men and women who yearn for adventure".
—
Note:  Two brief mentions of off-color events, treated matter-of-factly and in the context of the story, show that this book was not written for young teens.  However, most of them would not even catch on and would instead hurry on to the next adventure.
The Boy in the Picture was published in 2010 and is available as a paperback and an ebook.
The Boy in the Picture by Ray Argyle forms part of our multi-year, literature-based Canadian History course and will be an incentive for us to explore the train section of the Museum of Science and Technology in Ottawa as well as the Eastern Ontario Railway Museum in Smiths Falls, Ontario. 
This post is linked to Finishing Strong and Trivium Tuesdays.
Disclosure: I borrowed The Boy in the Picture from our library and am not compensated for this review.