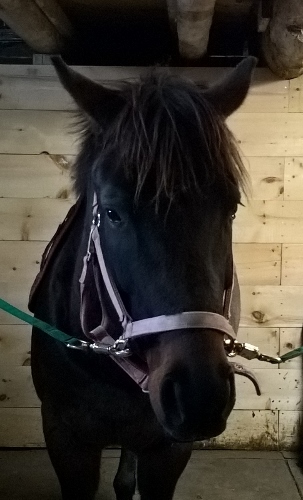 Miss 14 almost had the saddle on the horse when the barn door opened and a stranger walked in.  He turned out to be the co-op co-ordinator for the local high school looking for one of his students, and suddenly a lightbulb turned on in my head. Perhaps I could give Miss 14 a high school credit for her work as a therapeutic riding volunteer!  Despite our family being involved with therapeutic riding for years, this thought had never occurred to us.
So I asked some questions and this is what I learned.  I'm sharing it because both the ideas and the subsequent brainstorming process may benefit some of you.
Ontario students can earn up to 12 high school credits doing a co-op placement in the adult workplace. 
That is more credits than I would allow, since school is about academics, but it gives a lot of leeway for those who really want to explore a career or gain work experience to enhance their chances of being admitted to a specific college or university program.
The benefits for students are significant, from learning skills and exploring careers to learning about themselves and developing character. 
Yes, and of course that was also the day I pointed out that it was necessary to clean up the barn, even if it maybe wasn't her horse that caused the mess.  My thoughtless statement, "The barn doesn't have to look like your bedroom, you know," drew giggles from my daughter….
"Cooperative Education is a planned learning experience…that integrates classroom theory and learning experiences at a workplace to enable students to apply and refine the knowledge and skills acquired in a related curriculum course…." 
Here is where I began brainstorming, and I'm sharing my thoughts with you, because I so often wish other homeschool moms would share their thought processes with me.
What 'classroom experiences' (for homeschoolers that would likely mean 'book learning') would apply to a credit in therapeutic riding volunteer work and horsemanship?  Perhaps reading a few nonfiction books about horses (done already), or about therapeutic riding, or about various illnesses helped by therapeutic riding?  Perhaps writing a report about the work she does as a volunteer?  Perhaps learning more about the uses of horses and dogs (she also loves dogs) in therapy for physical and mental illness? This could lead to a career path that would suit her amazingly well, so it's worth exploring a bit.
(And, onto a completely different thought, how about cheering up sick kids or nursing home residents with chickens or bunnies?)
What 'related curriculum course' could be involved?  How about Introduction to Psychology if the focus is on horses and mental development or mental health?  Perhaps this approach could include a field trip to one of the three equine PTSD programs in the area or an interview with the instructor of the therapeutic riding program she works with.  Alternatively, if the focus is on physical disabilities, how about studying them as part of a biology course? Or if the focus is on horsemanship, which is where it currently is, would learning to ride fit count as part of a PE credit?
In any case, we should probably visit the RCMP Musical Ride stables to learn more about animals as ambassadors and about horsemanship, and also just for the sheer beauty of the horses.
So there's a small menu of ideas; we'll go through them, see what intrigues Miss 14 and what else she comes up with, and then I will make plans.  Which will, of course, change several times.  Also I have learned that presenting all my ideas at once is overwhelming and hinders the process, so I try to be wise about that, too, just suggesting an idea here or there when it is suitable…. It's a balance between providing help, supporting, and being willing to accept that interests change, all parts of a parent's role in self-directed learning.
Finally, when all is said and done and it's time to apply to post-secondary institutions, I will try to tie all the different elements together (and from now on I'll record anything relevant she does), write a course description for her high school records , figure out a grade, and determine the number of credits.
In my experience, self-directed learning usually earns an A because teens are so interested that they do very well.
As for the number of credits, I will guess the amount of time spent.  A credit is 100-180 hours of classroom time in schools; if learning is going on most of the time, I will veer toward the lower number of hours, and if there is a lot of downtime, I will aim for the full 180 hours.  Considering Miss 14 has already spent well over 150 hours, this project will likely lead to two credits, or maybe more.
So, to sum up, here is the credit brainstorming and planning process I went through as I considered this unusual high school course. The process always seems to be similar, at least for our family.
A new idea pops into someone's head.
We gather information.
We try to ensure that there will be a balance between theoretical and applied learning.
We see if it would be related to any courses we are already involved in.
We start to think about credits, grades, and high school records.
Finally I watch things unfold, providing a book here, an idea there, and a nudge to try this or that.
You can use the same approach to develop a course based on your teen's interests, whatever they are.  Obviously it is possible to sum up an activity at the end of four years and assign it a credit (we have done that, too), but thinking ahead can add a valuable elements to your teen's learning.
To see how this all worked out in real life, check back in three years….  In the meantime, I'll order some library books, find warmer clothes to wear to the horse barn, and settle back to watch, keeping all these ideas in the back of my head.  And Miss 14, well, she will keep on doing what she loves to do, learning all the while.
Homeschooling can be very flexible, and sometimes it is that flexibility that trips us up as we constantly re-invent the wheel.  Perhaps this example will save some families that effort.
Note:  It may be important to consider legal homeschooling requirements in your area.