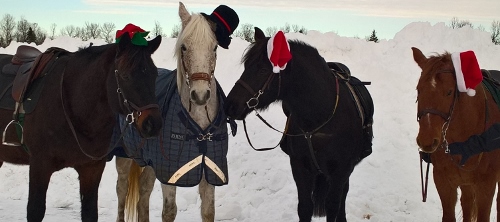 According to Miss 14 our wrap up posts are missed.  She offered to do my work for me if I would write one and I am very grateful .  A chance to write instead of iron, mend, and fold laundry?  I feel so blessed!
So, here is what we've been doing the past two months while the snow fell and the wind howled, especially on Tuesdays.  Yes, really, it was a special winter with poor weather almost every Tuesday but lovely weather most of the rest of the time.
School-wise, we were busy with all the usual things.  Daily each girl and I spend time on our comfy couch by the fire, studying logic, grammar, French, and Dutch together.  The other work is a bit more haphazard, but it seems to be getting done.
Miss 16 has finished her grade 10 Dutch credit and is able to read snippets from Dutch newspapers, decipher contemporary literature and manuals with a dictionary, and follow involved conversations.  Grade 11 Dutch will involve increasing her vocabulary and her ability to speak in Dutch.
Miss 14 struggled for months with the concept of gravity in Physical Science until I realized what the problem was:  she was trying to understand more than the book provided.  Since then she has written that test and now she's in a rush to finish the entire course at quadruple speed.  When it is finished she will get ten pretty notebooks for all her projects, lists, and dreams, and she can't wait.
We've started our year of celebrating Canada's 150th birthday through Canadian History.    We read books, watch videos, and are currently focussing on the prime ministers, which is a good way to get an overview of Canadian politics over the last century and a half.  I've been puzzling about how to teach history properly (see my thoughts on the Six Historical Thinking Skills) but it seems to me that our family still needs to focus more on facts, people, and ideas before trying anything else.
Based on Make It Stick (link to my review), an excellent book about the science of learning, we now do lots of little quizzes, like Charlotte Mason's narrations which I had largely forgotten about for a few years.  They can be oral, but currently we are using written ones.  So each Friday I try to have two or three quizzes prepared on what they've learned that week in history, Bible, French, science or whatever.  For example, we've been watching an excellent series of 20 minute videos about Canada's prime ministers.   Yesterday I handed the girls some paper and asked them to list the first 5 prime ministers and give three facts about each one of them.  Sometimes I combine fill-in-the-blanks with short answer questions and actually print the quizzes out.  And occasionally I just listen as they talk non-stop about cool things that they have learned, which is, obviously, the ideal.
The girls also did other things besides schoolwork, of course.
During a cold snap when the community rink was open they convinced me to drive them there each morning so they could skate and play hockey together in the sunshine.  Since it has been an effort for them to get adequate exercise, I said yes, remembering that this could also be part of the required PE credit for high school.   While they skated I walked around with my new earbuds, memorizing Romans with David Heath, narrator of the ESV audio Bible.  Now they skate on the melted runoff water that has frozen, whizzing past hummocks of meadow grass while the dogs watch mournfully from the other side of the fence.
Miss 14 has been blessed with an extraordinary opportunity, horseback riding and lessons with the horses she volunteers with at therapeutic riding.  She has learned a remarkable amount about horses, riding, people, and herself.
Miss 16 loves her part-time work at a local ethnic store and all her dear fellow workers and customers.   We are so grateful for the flexibility of homeschooling; she never has to turn down a work shift because of a test or a paper.
Other than that, there has been a tiny amount of judo and yoga, lots of whipping cream and chocolate, friends, family (my out-of-province parents came for a visit!), a new-to-us car (the third blue one on our driveway), music, time with Bunbun the rabbit, messes made and cleaned up, the bathroom ceiling painted, and a pack of wolves that kept us from walking in the fields.  And, during a foretaste of spring that brought the robins back weeks early, I saw three swans gliding through the blue sky!
And now my 2017 resolutions.   They were very simple:  memorize Romans, work back up to walking 10 K steps a day, and keep up with the wee notes I scribble during sleepless nighttime hours.
Sleeping well made a difference in the volume of those notes; dealing with them each morning has meant more important things remembered, better homeschooling, and many more good sentences and ideas in various articles.
Walking 10K steps has not been possible although I did manage to average 8K for a few weeks.  Now I am down to less than 5K as I struggle again with weakness and fatigue, but hopefully lots of rest will turn that around quickly.  In the meantime, I am grateful that I can still do my work, that I have had a very good winter, and that my family is so caring.
As for memorizing Romans, well, it is a challenge on many levels.
First I have to remember to work on it, which I usually do.
Then I have to do it, which is often possible though rarely easy.
But remembering what I learned the previous day, no, that does not go as well as it did when I was young.  Tackling a project like this at 52 is perhaps a bit ridiculous.
On the other hand, it is a blessing on many levels as well.  I knew, in some sense, that it would be and that is why I decided to try, but I had not expected this many blessings.
For me to memorize a passage, I need to go through it many times, understanding it, organizing it in my head, and pondering its meaning.  In other words, I now more often actively think about God's Word.
Having one's mind full of good things (Phil 4:8) is a blessing, and thinking through these passages carefully enhances my understanding of the rest of Paul's letters and of everyday life.
Furthermore, exercising my mind in this way is good for it and also helps me understand what my kids go through as they study.
So, even if I never will be able to say all of Romans end to end, just working on it is a blessing in itself.  All that being said, I have been memorizing the first four chapters, have the first two largely memorized (although I forget very quickly), and have also thought through the rest of the book in some detail.
And of course there's reading.  Not as much as some years, but still quite a lot:  One Man's Wilderness:  An Alaskan Odyssey by Keith, 52 Ways to Connect with Your Smartphone Obsessed Kid* by McKee, Do More Better by Challies, Disease Proof by Katz, The Avion My Uncle Flew* by Fisher (read aloud), Courageous Love* by Marlow, The Paideia of God* by Wilson, and Peter Martyr Vermigli* by Carr.  I have not yet reviewed any of the books, but have rated them on Goodreads and hope to post reviews of the starred ones here soon.  Currently I'm trying to understand what homeschool teaching actually is so there will be a lot of books about education coming up.
As for the Bible, I'm reading in Luke on my own and in Acts with the girls.  When my husband is home, we read 2 Corinthians at meals.
Our current read aloud, The Northern Magic, is taking us around the world on a ship with a homeschooling family from our city.  So exciting!  The girls have colored quite a few maps while listening.
So, that is what we've been up to during January and February.  It was a good winter so far and we are grateful for all that God has done for us and given us.
If you enjoyed this article, you might want to follow me on Google+ where I often mention helpful or interesting ideas, or connect with me on GoodReads where I share what I read.