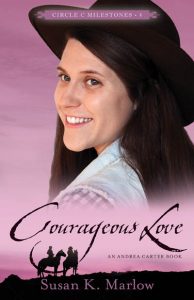 Andrea Carter, seventeen, was allowed to work on the family ranch and she loved that almost as much as learning stunt riding from Riley, a young ranch foreman.  But Riley's horse bucked during a new stunt and she slid off, right onto her face.  Her scratched, swollen face would not have mattered that much except it was the day of her brother's engagement party and once again she would be the talk of the town.   However, by the end of the party the town had something a whole lot more exciting to think about, a brick crashing through one of the parlor windows.
There was a warning note attached to the brick, and before long the Carter family realized they had something to fear.   Snipped wires, more notes, a barn fire….  Andrea and Riley worked together on these, and her lawyer brother Justin went through lists of criminals he had prosecuted.  But no one realized the true danger until it was too late….
Andrea is growing up in this book.  She is no longer the somewhat spoiled girl who means well but gets herself into trouble by her rashness.  Now she is truly a heroine, battling her own impulses as well as dangerous criminals.  In this book she learns about faith, love, and the value of knowing how to shoot straight.
It was a headachy, feverish day in the middle of winter when I unpacked Courageous Love for Miss 14, and it proved an excellent distraction.  Huddled on the couch with a blanket, she read about horses, outlaws, a dog, and all kinds of excitement. At the same time it filled her mind with goodness, bravery, idealism, and trust.  She recommends it, and so do I.
Courageous Love is the fourth and final book in the Circle C Milestones series by Susan Marlow.  Written for teen girls, this Christian historical fiction series features Andrea Carter, a spunky horse-loving girl whose life is full of adventure.  Over the years, this exciting and wholesome series has encouraged my daughter to read and I am thankful for that.  For those who wish to study these books in their homeschool, a lapbook and free study guide are available for each book.
We have reviewed two other books in this series as well, Heartbreak Trail and The Last Ride.
—
This is yet another book in the in the 52 Books in 52 Weeks Challenge and may also be linked to Saturday Reviews, Booknificent Thursdays, Literacy Musings Monday, What to Read Wednesdays and The Book Nook.  For more encouragement see Raising Homemakers, Titus 2 Tuesday, Tell it to Me Tuesday, and Finishing Strong.
Disclosure:  We received a review copy of this book from Kregel Books and have given our honest opinions.  We are not compensated for them.