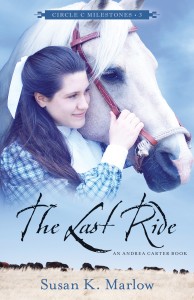 I have never heard Miss 13, my reluctant reader, laugh and squeal her way through a book until she read The Last Ride by Susan Marlow.
Then she said, "Give it a good review, Mom!  It's awesome!"
And a few days later she went back and read the best parts again, because it is so wonderful….
You see, Andrea Carter, now 15, and her beloved horse Taffy face a challenge in The Last Ride.  Cousin Daniel, of whom only Mother can say anything good, is coming to stay for a few months.  He has been getting into trouble, Andi and her sister discover unexpectedly, and his parents think the Carter ranch would be just the place to straighten him out.   And Aunt Rebecca, who disapproves of everything that Andi does, will bring him.
At first Andi, who is always getting into scrapes herself, thinks Daniel may be an exciting companion, but that hope is soon dashed.  He is worse than she could have imagined, and his behavior keeps on worsening until finally tragedy strikes….
I recommend you and your young teens read The Last Ride yourself to see what happened and why Miss 13 enjoyed it so much.
I did not enjoy The Last Ride quite as much as Miss 13 did, but that is probably because I was surrounded by the gentle beeping of hospital monitors while reading it.  Perhaps that is why I noticed the stress and tension while she only saw the humor and excitement.  Even so, I agree that it was a good book, well-written, exciting, and funny, with a strong Christian message woven in naturally.   I always appreciate that in Susan Marlow's books.
I recommend The Last Ride as an exciting story for teens.  Horse lovers, old West buffs, and anyone else  will enjoy its excitement and humor and benefit from its message.
—
This is yet another book in the in the 52 Books in 52 Weeks Challenge and may also be linked to Saturday Reviews, Booknificent Thursdays, Literacy Musings Monday, What to Read Wednesdays and The Book Nook.  For more encouragement see Raising Homemakers, Titus 2 Tuesday, Tell it to Me Tuesday, and Finishing Strong.
Disclosure:  We received a review copy of this book from Kregel Books and have given our honest opinions.  We are not compensated for them.