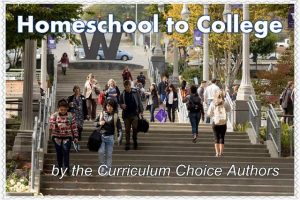 Over at the Curriculum Choice, some other long-term homeschoolers and I are discussing how to homeschool with college in mind.
Betsy, who helps other homeschooling moms figure out how to prepare their children for college, gives many links to her articles on the topic and also has her ebook, Homeschooling High School with College in Mind, on sale and available as a giveaway.  She also has a Facebook Group called College Discussions for Homeschoolers.
Tricia discusses the college search and college visits, a big deal in the US but not so much in Canada.  Even so, you will likely find tips to help you.
Meredith writes about planning high school with college in mind, and about how to guide teens who do not want to go to college.
And here is what I wrote:
Three of our homeschooled children are currently in university and doing well, although for several years I was terribly worried about all this.  Here are some tips that made all the difference for our family and led to large marks-based scholarships.
Our children read a lot, worked hard, volunteered, and had friends, hobbies, chores, and jobs.  Essentially we followed the lifestyle of perfect SAT scorers, not for the sake of the SAT but just because that's the way our family worked. None of our children got perfect scores overall, but some of their individual sections were perfect.
We used Lee Binz's method for writing our high school records.  I used her Comprehensive Record Solution; her book Setting the Records Straight is also excellent and a whole lot more affordable.  Here is an example of our records for student-led multi-year literature-based history courses.
Also, I worked hard to be a good guidance counselor for my teens with respect to planning for the future as well as high school course selection and course design.  Vicki Tillman's Career Exploration is a helpful resource.
However, being a teen can be difficult and bad things can happen.  Sometimes teens lose the ability to focus and this may require immediate attention, perhaps even from professionals.
Finally, always remember that there is more to life than homeschooling and university admissions; if faith goes by the wayside, academic success will mean nothing.  Yet we cannot give our faith to our children; only God can do that, but he uses parents. That is one reason we need to read our Bibles and learn how to live close to him.
Note:  It seems that 'college' in the US means a different thing than in Canada, so I just say 'university', although similar approaches are also helpful for Canadian colleges.
For the complete article, with dozens of helpful links and with Betsy's ebook giveaway, please visit the Curriculum Choice.
—
If you enjoyed this article, you might want to follow me on Google+ where I often mention helpful or interesting ideas, or connect with me on GoodReads where I share what I read. 
This article may be linked to Finishing Strong