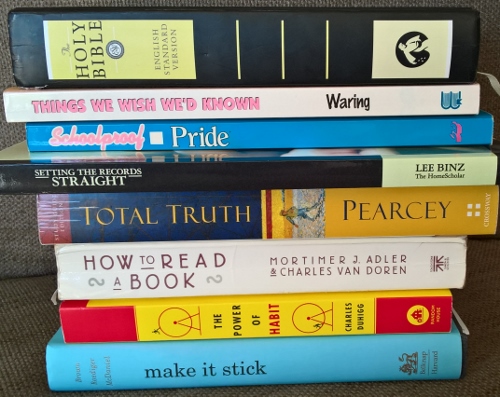 Homeschooling is a challenging calling, but there are some resources that make it easier.  Here are some that we have loved, that you might want to consider for your homeschool reading this summer.  As you go through this list, remember, the only indispensable one is the Bible; the next three most helpful ones are 102 Top Picks,  How to Read a Book, and Total Truth.  The rest are very worthwhile, but you do not need them.   (Note that most of the links in this article are to my reviews; there are no affiliate links.)
The Bible. If you are having a hard time reading your Bible regularly, here are Six Tips that may help. 
Bible memory:  For a non-permanent way to cover your walls with Bible texts, you might want to try Scripture Stickies. They created a special coupon code for you: "rvhea" gets a 10% discount at the Scripture Stickies website.
Helpful Bible texts for homeschooling moms to memorize; I need these so often!  Philippians 4:4-8, Proverbs 14:1, Proverbs 3:5,6, and Titus 2:3-5.
The Heidelberg Catechism is a 450 year old Bible curriculum that explores the gospel message using the Apostle's Creed, the Ten Commandments and the Lord's Prayer using a question and answer format.  Its purpose was to provide Bible knowledge and real-life comfort during troubled Reformation times and it also gives guidance and comfort during troubling homeschooling days. Even if you don't like catechisms, this one is a treasure for all Protestants (although there will be disagreement on one question and answer about baptism as well possible controversy about the Lord's Supper).
102 Top Picks by Cathy Duffy (or the older editions 101 Top Picks or 100 Top Picks). The more carefully you work through the first five chapters of this book, the more your homeschool will benefit.  I go through this introductory material every few years so I won't drift away from our original goals.  If you wish to buy it, Cathy has offered you a $3 discount that is good here through 8/31/17: AKA2017. (This can be used on either print or ebooks but it won't work for just the charts.)
How to Write a Low Cost No Cost Curriculum for Your Home School Child by Borg Hendrickson is ideal for grades 1-8 if you are making up your curriculum yourself. This book was helpful at the beginning of our homeschool journey when we had no money for curriculum, knew nothing about teaching little ones, and lived overseas. You can find similar information in the scope and sequence documents of major curriculum suppliers such as A Beka, Bob Jones, Veritas Press, Sonlight, etc.  There is also the series What your __th Grader Needs to Know by Hirsch.  But don't get overwhelmed—these are tools, not tyrants.
Ambleside Online curriculum (free) is an excellent resource guide which was created to 'spread a feast of learning' before children and to help them develop relationships between different concepts.
Public and Christian school course catalogues are very helpful for high school planning; these will also help you write course descriptions for your high school records.  You can often just pick them up; some high schools will mail them; sometimes they are available online.  Also, if you are not sure if your high school curriculum meets certain standards and covers all topics expected by a university or college, libraries often have textbooks as well as public school review material.  Be sure to check university entrance requirements (available on their websites) for areas your teen may be interested in.
The Three R's by Ruth Beechick With this, the library, and access to a wide variety of hands-on activities, you can teach the first three grades beautifully, although I did find security in having 'real' curricula, too.
One homeschooler-turned-teacher gave me this list of things our children need to know in order to be able to learn well:  phonics (even if the child can already read), basic arithmetic, stories and facts of history, patterns in history, basic facts and cool concepts of science, vocabulary, parts of speech, elements of a picture, elements of a story, how to write a paragraph, comparing and contrasting.
How to Read a Book by Adler and Van Doren teaches the average reader how to understand, analyze, and learn from books. It takes students beyond the basics of reading to become scholars and is the second most important book in our homeschool high school, after the Bible.  Helpful for moms as well as students.  It is worth buying. For more information, please see my summary of The Four Levels of Reading for High School.
Things We Wish We'd Known by Bill and Diana Waring.  Fifty veteran homeschoolers share what they wish they had known when they started their homeschooling journey—heartfelt, time-tested tips and nuggets of wisdom.  Much of our homeschool is based on their advice.
Total Truth: Liberating Christianity from its Cultural Captivity by Nancy Pearcey.  Based on the idea that we need to move beyond a privatized faith, Total Truth analyses our culture, showing why and how Christianity is marginalized and what we can do about it in our everyday lives. This is a very valuable guide to help us ensure we are teaching truth and may help us understand what Paul said in Eph. 6:4, about teaching our kids Christian culture and thus developing it.  I am excited to be studying this book over the summer with a group of ladies; that is my big summer reading project this year.
Schoolproof by Mary Pride will help you figure out what is essential for each child and each subject, helping you eliminate unnecessary extras.  'Knowledge is complex enough, students are complex enough, without making teaching complicated, too.'
Ten Ways to Destroy the Imagination of Your Child by Anthony Esolen. In our homeschools we can avoid these ten things that our society does to children.
Setting the Records Straight by Lee Binz will help you prepare comprehensive high school records that are suitable for university admission.  It is definitely worth buying.  (Or if you are as frightened and stressed out as I was, you might want to invest in the more expensive Comprehensive Record Program which is similar but involves a lot more handholding).   Lee Binz's method helped me enormously and helped my teens get scholarships.  Warning: when you read it, beware of the danger of comparison.  Most of our 12 year olds are a far cry from some of the super stars mentioned but don't panic, just pray and work.
Make it Stick: The Science of Successful Learning by Brown, Roediger and McDaniel is a very practical book for those of us involved in the important daily business of teaching our kids.
SCRUM by Jeff Sutherland.  This is essentially a business book about aiming for goals rather than being devoted to methods, a skill that is invaluable for homeschooling moms.  This technique has been successfully applied to education on pages 204-211 and would be interesting to homeschoolers who, for one reason or another, want an efficient approach to education.  It has a mindset similar to Schoolproof, listed above.
Seven Laws of Teaching by John Milton Gregory, summarized here and available to download here.
General Resources, because if the rest of your life runs smoothly, your homeschool will, too.
Tell Your Time by Amy Lynn Andrews is the best practical distillation of the time management literature available for moms.  It covers all the basics in 30 pages, beginning with the shocking (to some of us) truth that there really are only 24 hours in a day….
Crazy Busy: A (Mercifully) Short Book About A (Really) Big Problem by Kevin de Young discusses the spiritual issues involved in being too busy.  Challenging and helpful.
The Power of Habit by Charles Duhigg helps us avoid wasting our time, energy, health, or money on bad habits.  Thorough, practical, research-based guide for adults.
Laying Down the Rails by Sonya Schafer. I haven't yet seen any of Shafer's several books about developing habits, but this one, about teaching children habits, has Ann Voskamp's hearty approval:  'One of the most productive homeschooling reads. Worth every penny and more. Needful, necessary stuff.  I return again and again to this book, all underlined and dog-eared.'
—
Note:  This list has been shared with conference attendees in the past.
If you enjoyed this article, you might want to follow me on Google+ where I often mention helpful or interesting ideas, or connect with me on GoodReads where I share what I read. 
Disclosure:  I am not compensated for recommending any of these books and resources to you.