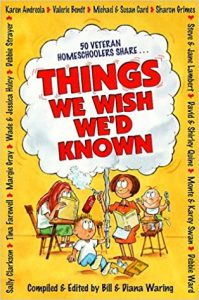 A lot has changed in the homeschooling world but some things never change.  When, twenty years ago, Bill and Diana Waring asked 50 veteran homeschoolers what they wish they had known when they started their homeschooling journey, they got heartfelt, time-tested tips and nuggets of wisdom that are as relevant now as they ever were.
I have read this book several times, and the most recent time was a revelation—this book has shaped me and our homeschool more than I had realized.  There is so much wisdom in these pages!  And, as our family grows and changes, there is always more that I am finally ready to understand.
Many of these 50 veteran homeschoolers were high achievers who carried their drive and perfectionism into the homeschool but soon learned the folly of trying to bring school into the home.  That message, as well as the importance of prayer, books, and relationships in the homeschool, forms the basis of this book. The Warings compiled and edited the responses to their question under 6 headings and I have summarized some key ideas:
o   Curriculum is a tool
o   Read out loud together
o   Keep it simple
o   The 'good' can be the enemy of the 'best'
o   There are closed subjects (when you know them, you know them) and open subjects (you can keep on learning forever)
o   Know your learning goals
o   Focus on Bible
o   Read great books
o   Preview the kids' subjects each year and learn the framework and outline of each subject
o   Strive to pass on interest even in subjects you know little about
o   Minimize the use of textbooks, especially for little ones
o   We are not called to do it all
o   Put God first, family second
o   Consider your priorities carefully
o   Frustration shows there is a problem; identify the problem and try to fix it logically
o   When the family is functioning as God has designed, learning will happen naturally
o   It does not all depend on mom
o   There is no one right way to homeschool and no one right curriculum
o   We need to do the best we can with the time and resources we have been given
o   God works through us homeschooling parents, faults and all
o   Academic learning, while the heart of homeschooling, is not to become a god
o   Homeschooling is great character training for the parents as well as the children
o   We need to maintain a sense of humor and not take ourselves too seriously
o   The goal of learning is to sharpen our children's focus on the kingdom of God
o   Children are inspired and shaped by relationships, so it is important to help them develop relationships with persons, places, and things
o   The goal of education is to equip the child to live the life God gave in the way he intended
o   Time and togetherness
o   We can focus on training not only the mind (Greek model of education) but also the heart (Hebrew model)
o   Reading biographies is the best way to learn history
o   We can teach each child differently and encourage each one differently
o   Some parents are, by God's providence, given that most difficult of all gifts, a prodigal, to whom they need to be wise parents, mirroring God.
It is astonishing to see how some of these veteran's most important discoveries seem so trite.  Having made many of the same discoveries myself, I want to emphasize:  there is a world of living behind each of these statements.  Though they sound simple, it is a simplicity on the far side of complexity.  These are lessons learned after much trial, error, and, often, anguish, and finally distilled down to their essence.
Here are a few more helpful thoughts about homeschooling:
'A vital aspect of true education is seeing that all the 'building  blocks'  of education (facts, formulas, dates, field trips) are part of Gods world, created to help us begin to know and serve him.' P 133
'There is so much learning going on around us all the time, and we need to learn to recognize it.  Bloom's taxonomy is a way of thinking about different levels of thinking skills (recall, comprehension, application, analysis, synthesis, evaluation).  The best way to develop analysis is by discussing things, and a hallmark of synthesis is being creative with what you've learned.'  P 37
'Having a school day go exactly as planned is a special blessing, but don't get discouraged if it doesn't happen again for another month.' P138
'Because children's horizons of thought need to be broader than their textbooks, the best curriculum for a well brought-up person is daily to have
Something or someone to love,
Something worthwhile to do,
Something worthwhile to think about.' P 165
This homeschooling gem is still available new but most likely your homeschooling library owns it.  If not, it should.  Things We Wish We'd Known is highly recommended for everyone who homeschools, whether you are a beginner or a veteran yourself.
—
If you enjoyed this article, you might want to follow me on Google+ where I often mention helpful or interesting ideas, or connect with me on GoodReads where I share what I read.