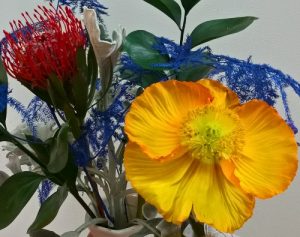 These months have been a blur of snow, rain, and daffodils; of learning and medical appointments; of hockey and bunny escapes and driving lessons.  They have been so full that, looking back, I can think of hardly anything that happened.
But things did.
Most importantly and so easily ignored, we enjoyed God's everyday goodness in countless ways and his love was with us every day.
Even when Miss 14 suffered her fifth major concussion and was diagnosed with post-concussion syndrome.  (But she stayed on that horse!)  She is doing quite well, all things considered, and is blessed with an amazing concussion doctor who is also an expert in pain management and an equally amazing physiotherapist with the same specialties.  Photography, light reading, and lots of walks with the dogs have been replacing her schoolwork.  She has also had lots of time to dream of flower gardens and vegetables, to order seeds, and to start seedlings.  She is able to study geography, literature, and Canadian history for short times again.
Miss 16 added another shift to her work week, on the condition that she finishes the same amount (or more) of schoolwork each week, and she's managing to meet the condition.  In terms of Dutch, we're focusing on children's stories and a new, very structured course that is used in the Netherlands to teach 'educated' immigrants.  So far it is going very well; if she completes the third book she will be fluent and I, too, will have learned a lot.  For logic we are taking a break from James Madison and diving into Douglas Wilson's Introductory Logic.  James Madison is very in-depth, but Wilson's course seems more logical and mathematical.    Canadian history, French, math, literature, Bible and music happen every day.  Science is being quietly ignored and that will come back to haunt us.
We finished reading The Northern Magic but have not yet finished all the planned map work. We started The Silver Pencil by Alice Dalgliesh but it gets pretty dark pretty quickly and the girls hated it so we quit.   We have been minimizing screen time and have therefore not watched any Canadian history DVDs.  I'm looking for a good Canadian history read aloud book instead.
As for my personal reading, it has been wide-ranging and varied.  Who Killed Canadian History?  was illuminating, especially considering its stern disapproval of misuse of ideas such as those in Six Historical Thinking Skills.  Basically we need to remember that '"Historical thinking" only becomes possible in relation to substantive content.'  Canada:  An Outline History by Lower does exactly what the title suggests—it outlines the history and minimizes all the politically correct stuff that is often added.  I am looking forward to finishing it.
Korczak's Children is a very moving play about Jews during Nazi times, based on a real life.
Leacock's Sunshine Sketches of a Little Town is hilarious and also deeply disturbing.  I plan to write about it soon.  Miss 16 is studying humorous literature, an unusual and enjoyable self-initiated specialty that will keep me busy, too.  If you have any suggestions, we would love it if you left them in the comments.
Miss 14 has a huge pile of fluff books that she has been going through and occasionally I dip into it, often starting a book in the middle because I don't really feel I have the time to read it all.  I enjoyed Maggie's Miracle by Karen Kingsbury, It Had to be You by Janice Thompson, Welcome to Last Chance by Cathleen Armstrong, and The Tender Years by Janette Oke.
Things We Wish We'd Known by the Warings was a wonderful reread about homeschooling.  I skimmed a few other books about education as well (A Thomas Jefferson Education, Educating for Life, A Reformed Christian Perspective on Education).  We homeschoolers can learn a lot from the Christian school movement's ponderings on the meaning of education.  Norms and Nobility is a deep discussion of education and the importance of ideals and heroes, related to the idea of paideia, the Greek ideal of education.  I have not finished it yet, because it is one of those books one needs to take breaks from.  Age of Opportunity, a parenting book, addresses similar ideas from an explicitly biblical point of view and I highly recommend it.
Troubled Minds by Simpson talks about how the church can help those with mental illness, and it is excellent.
Painful Yarns by Moseley is full of helpful analogies but has some rough language.  It illustrates concepts in Explain Pain by Butler and Moseley which I am still going through.   Explain Pain summarizes the latest research on pain.  The human body is so amazingly complex that there are no words to express it.  How pain works is another amazing aspect of it.  For anyone who experiences chronic pain, this book provides understanding and ways to reduce the pain felt.  It also explains quirky aspects of chronic pain that may seem far-fetched to outsiders.
Marie Durand by Simonetta Carr is a moving story of faith and suffering that I hope to review soon.  Now when anyone says, "It's not fair," I think of this devoted Christian woman.  Life was far from fair for her, but she believed God was in charge and therefore she could endure patiently.  It reminds me of Evidence Not Seen by Darlene Deibler Rose.
Bavinck, a introduction to a great scholar and a great Christian, has inspired me in many ways.  I hope to finish and review it soon.
I am also reading, very slowly, Resolving Conflict by Lou Priolo.  It's another one of those very worthwhile books that takes a lot of reflection and living to really absorb.
For my personal Bible reading I've been floating around rather than reading systematically as I usually do.  I'm not sure if this is good or bad, but I do know that it has been bad that, with changes of routine due to being overly busy, I have skipped this more than usual.  Either I need to stabilize my routine or to find a different time to read.
For mealtime devotions the girls and I read from Acts to 1 Corinthians, with frequent forays into Psalms and Proverbs when one of them is away.  When my husband is home, which has happened more often than usual, we read from 2 Corinthians to 1Thessalonians.
As for my 2017 resolutions, well, I know Romans much better than before but can actually only recite snatches of it.  I do occasionally walk 10,000 steps a day, but if those steps are not spread out throughout the whole day they exhaust me.  And those little night time notes are still adding immensely to my life, although I prefer to sleep through the night.
Finally, I was privileged to speak at two conferences.  If you ever want to learn something, plan to speak about it….  And my husband received a major promotion, which was the reason for the flowers shown above.
I wish you God's blessings in your homeschool and family as you enjoy spring and head into summer!
If you enjoyed this article, you might want to follow me on Google+ where I often mention helpful or interesting ideas, or connect with me on GoodReads where I share what I read.