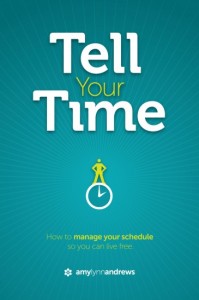 Do you want to manage your time better?  Do you have dreams and hopes that keep getting put aside because you 'just don't have the time'?  Maybe you need to learn how to manage your time.
In the past I read many of the time management books out there, one after the other.  Now I no longer read them, and I was wondering why the other day.  I think the answer is simple:  I've absorbed the lessons from all those books and two years ago Amy wrapped them up neatly for me in her ebook Tell Your Time.  Not that I manage my time perfectly, but I know how to do it even if I don't always do it.
Tell Your Time is a short book (just perfect for someone who values her time) full of practical wisdom.  Simple, clear, and to the point, it deals with both the philosophical and practical reasons we have issues with time management and shows how to solve them.  If you follow Amy's advice, you will change your life. 
Tell Your Time would go very well with Crystal's 21 Days to a More Disciplined Life, which I reviewed here.  Amy gives you time management wisdom and Crystal shows you how to discipline yourself to follow through.
This edition of Tell Your Time is even better than the one I reviewed two years ago .
—
Disclosure  As always, this post involves no affiliate links.
Linked to Better Mom Mondays.