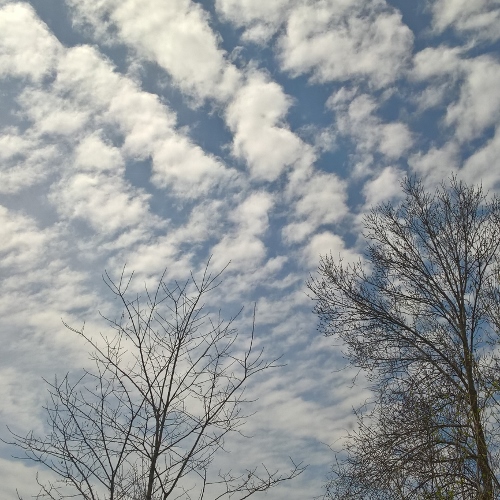 Tomorrow is Ascension Day, the day we celebrate that Jesus went to heaven.
But why is that a cause for celebration? Why is it good that Jesus went to heaven?
First of all, of course, he is interceding for us at God's right hand.  (Romans 8:34)
And, amazing thought, he is busy preparing a place for us and will come again and take us to himself.  (John 14: 2, 3)
Finally, he went to send us his Spirit to dwell in us and be with us forever, and to be a guarantee to us of our resurrection.  (John 16:7, John 14:16, 17, and 2 Corinthians 1:21, 22)
So, yes, the fact that Jesus ascended to heaven is indeed worth celebrating!
Furthermore, we can look forward to the day when he will return, just as he ascended into heaven.
When I see majestic clouds, especially the ones with sunbeams streaming out from behind them, I often wonder if those are the kinds of clouds our Lord Jesus will return on.  Or sometimes I wonder if, perhaps, he is returning right then.
Of course, he can return on dull rain clouds or fluffy summer clouds as well.  And when he does return, we won't be wondering if it is actually him; his return will be blindingly obvious to everyone.
So, this Thursday is Ascension Day.  Although it is not commercialized like Christmas or Easter, or even remembered like Good Friday, it is a day worth celebrating, both for what it means now and in anticipation of Jesus' return.
You, like me, may want to spend some time looking at clouds, dreaming of when Jesus does actually return.
And then, since all celebrations involve music, you may also wish to rejoice along with Bach's beautiful Ascension Day Oratorio (lyrics here).  Especially the beginning and end of this piece make me think that this may be like the music in heaven, but Miss 15 wisely pointed out that that music will be even more sublime.
Your church's songbook likely has some music for Ascension Day, or you may wish to check out these lists of traditional hymns, praise and worship songs, and contemporary hymns. One of the newest, written only last year, is "Christ Went Up on High Far Above the Sky."  And then there is this recording of All Hail the Power of Jesus' Name.
—
If you enjoyed this article, you might want to follow me on Google+, where I often mention helpful or interesting ideas, friend me on Facebook where I am just a newbie, or connect with me on GoodReads where I, eventually, share what I read.  
—
This post may be linked to Inspire Me Monday, Raising Homemakers, Friendship Friday, Make My Saturday Sweet.