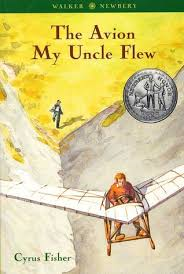 Every once in a while it still happens: I discover a 'new' old book that absolutely delights me.  The Avion My Uncle Flew, a 1947 Newbery Honor book, was the latest.  Charming, complex, beautifully written, exciting, uplifting, and funny, it tells the story of Johnny Littlehorn, an injured American boy who unwillingly spends the summer in the small French village of St. Chamant.
Johnny's mother grew up in St. Chamant and his Uncle Paul has moved back there to build and test his avion (airplane) .  The family home, destroyed by the Germans, is uninhabitable but when Johnny and his uncle go see it, Johnny discovers it is being lived in and that the fresh loaf of bread conceals a German pistol.
But enough of that.  First Johnny has to get to St. Chamant, and he is determined not to go… until events conspire and there really seems to be no option except to accompany Uncle Paul on the long train ride, and escape.
My teen girls were uncertain as I read the first chapter.  The second chapter convinced them that this was a terrible book.  And then, once the groundwork was all in place and the story really began, I was begged to read on and on until my voice gave way.
What's unique about this book is that Johnny and his mother make a deal. If he will learn enough French to write her a letter in French by the end of the summer, he will get a dynamo for the bicycle that his pere (father) will buy him if he strengthens his injured leg enough to walk 2 miles by the end of the summer.
Oncle Paul sees it as his mission to teach his neveu (nephew) French, gently lulling him to sleep with it at first.  Word by word, phrase by phrase, the book becomes more and more French, with even the English sentence structure occasionally changing.  None of this ever interferes with the story, which is fast-paced and an enormous amount of fun and completely understandable, but by the end Johnny can write a short account of the avion in French, and the readers can understand it. C'est bien. (It's okay.)
Highly recommended fun and wisdom for middle school and up, as another aspect of WW2 history, and as a delightful addition to French language lessons.  However, anyone reading it aloud does need to know French.
—
If you enjoyed this article, you might want to follow me on Google+, where I often mention helpful or interesting ideas, friend me on Facebook where I am just a newbie, or connect with me on GoodReads where I share what I read. 
Disclosure: We borrowed this book via interlibrary loan and are not compensated for our honest opinions.
This article may be linked to Saturday Reviews, Booknificent Thursdays, 52 Books in 52 Weeks Challenge, Literacy Musings Monday, and The Book Nook  as well as to Inspire Me Monday, Raising Homemakers, Friendship Friday, Make My Saturday Sweet.