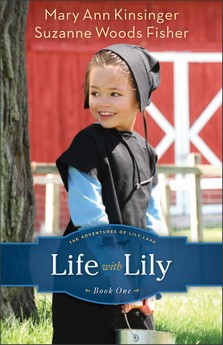 Little Lily Lapp is Amish, and that colors her whole life. 
Even so, she is like any other little girl, loving her doll, learning to be friends, enjoying the family's animals, facing the new world of school, loving her family.   She's helpful, gets into trouble, and enjoys the many simple pleasures of childhood in these sweet vignettes of everyday life.
I think children aged 8-12 will enjoy Lily's adventures and peaceful family life.  Although Life with Lily is almost 300 pages long, the vocabulary is simple enough that many 8-year-olds (not mine, though) would be able to read it on their own.   Certainly the average 10-year-old would be able to read it.  And if not, it would make a delightful read aloud.
Unlike many modern books for this age range, Life with Lily does not have a harsh edge even though it deals with a few unpleasant characters.  Authentic details show that these stories are based on real memories of a sweet but spunky little girl and the mostly gentle people around her.
If you're looking for a memorable Christmas gift for children between 8 and 12, especially girls, do check out this lovely little book.  It will be read, loved, and reread.
Note:  I noticed several editing errors; in that sense the quality of this book is inferior to other Revell books I've read. Later books in the series are much improved.
This post is linked to Saturday Reviews.
Disclosure: This book has been provided courtesy of Baker Publishing Group and Graf-Martin Communications, Inc. and is available at your favorite bookseller from Revell, a division of Baker Publishing Group.