I just discovered that some really nice person nominated me for the Best Homeschool Mom Blog in this year's Homeschool Blog Awards!
Wow!  I feel so honored!  Whoever you are, thank you!
These awards involve voting, so if you agree with that very nice person, you can vote for Tea Time with Annie Kate.  Up to once per day per device, according to the rules, and voting ends on the 16th.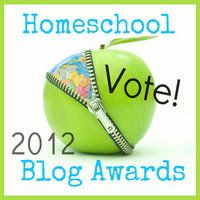 The Homeschool Blog Awards involve many amazing blogs, and it's worth taking some time to visit blogs in different categories.  Enjoy!
And if you vote for Tea Time with Annie Kate, thank you very, very much.