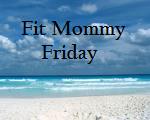 encouraging each other to care well for the bodies God has given us
My personal goal is to regain strength after a debilitating illness so that I can live a healthy, active life with my family.
Your goal may be to lose weight, look better, feel better, or run a marathon.  Whatever it is, please join Fit Mommy any time, no matter what your current level of fitness is.  You can check in using the comments at the bottom of this post.
This week one more child became sick.  One has become well, so now we have three coughing and sniffing. My husband and I are still fighting off this cold, he more successfully than I.
Very little strenuous exercise has been happening, except for shovelling snow and hauling firewood, and I did none of either.  Now we're almost at the end of winter, and then we can live with open windows and bird songs, with afternoon sun slanting into our dining room.  I'm so looking forward to that!
I must get back into an exercise routine to be able to manage all the outside summer work and play.  For me it's a fine balance between doing enough and not doing too much.
Here's how I did this week.  It's not great, but considering our health, it's not too bad.
Record my fitness accomplishments each day…Yes.
Do 7 repetitions of my eye exercises 5 days a week …Yes.
Go for a daily walk and average 6100 steps a day … No.  I took a few walks, but we had storms, ice, and very busy days and my daily steps were:  ~5000, ~5000, 5200, 7500, 6500, 4500.
Do 6 repetitions of my physio exercises 5 days a week … No.  I've done most of them today, though and am planning to do them regularly again.
Do 5 repetitions of my organ keyboard and pedal exercises, 5 days a week… Yes!  And I increased the number of exercises.  Now that my arms and legs are getting stronger, that is possible.
T-Tapp: Learn 2-3 pages of Fit and Fabulous each week, and practice what I know daily.… Nothing from T-Tapp this week.  I won't do anything next week either, until this cold has left our family.
Avoid sugar five days a week … Yes.
Eat lots of vegetables, including fresh ones, and yoghurt … Yes.  I made some more good yoghurt, but the latest batch didn't thicken so I cooked buckwheat porridge with it.  It was delicious and reminded me of my grandmother's soaked oatmeal porridge.
Relax daily…Yes.  We went to bed very early and gave ourselves time to rest.
Have fun with the kids, including active fun…We were not interested in active fun.  However, we laughed, chatted, read aloud, and played many, many games.
How about you? Did you exercise, eat well, and relax happily this week?
Let's encourage each other to care well for the bodies God has given us. Please link up your health and fitness post in the comments below, and don`t forget to link back here from your post. Then enjoy visiting and encouraging other Fit Mommies just like you.
Note:  Fit Mommy Friday is the Health and Fitness Check-In column of The Christian Home Carnival.