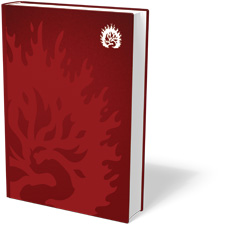 Because our church just switched to the ESV I was thrilled to review the new ESV Reformation Study Bible.   You see, I love the 2005 Reformation Study Bible (in NKJV), and this one promised to be at least as good.  Why?
It uses the ESV which is what I need right now (although a new NKJV version is coming out this fall).
It contains even more verse by verse study notes than before as well as relevant notes scattered throughout on topics such as sin, the nature of God, salvation, the church, heaven, and much more.
More black and white maps and illustrations are presented in the text, and colored maps are at the back.
An appendix includes the major creeds of Christendom and some of the main confessions of the Reformation.  These are, of course, subordinate to the Bible itself and 'reflect unified positions the church has embraced and guarded for centuries'.
The appendix also includes articles about reading and interpreting the Bible, from apologetics and hermeneutics to inerrancy and textual criticism.
And of course, as expected in a study Bible, it includes a concordance, cross-references, and a Bible reading plan.
The main distinctive of the Reformation Study Bible as opposed to others is that this one follows the Reformation ideas of
Scripture alone,
Faith alone,
Christ alone,
Grace alone,
To the glory of God alone.
In matters such as creation it presents alternative points of view (6-day creation and long-earth creation); in matters of theology it follows the Reformed tradition; and in matters of the end times it discusses the three main approaches (premillennialism, amillennialism, and postmillennialism).
Now, a Bible is meant to be read, and that depends on physical aspects such as weight, font, page layout, paper quality and more.  The Reformation Study Bible, with its single column Scripture presentation and three column study notes format is pleasant and easy to use.  Unfortunately, however, I find it somewhat difficult to read.  The type is not black but dark grey and that seems to make all the difference for me.  For the in-text maps I actually need to take off my progressive glasses and hold the Bible close to my face.  Now, I know I have eye issues and am 50 years old, but I suspect that my vision is not much worse than that of most people who are older.  So, even though I recommend this study Bible, I unfortunately cannot recommend it for older people or for those with vision problems.
Despite these few negative physical points, I heartily recommend The ESV Reformation Study Bible to any Reformed Christian who's looking for a new study Bible.  It is clear, accurate, helpful, not too heavy to carry around, and seems sturdy enough for years of use.  It would be a great addition to a homeschool and would also make a good graduation gift.
Various formats are available, and you can see options and pricings here.  An ebook version being prepared and the same study Bible in NKJV is scheduled to appear this fall.  Because there is so much information on each page, I would find it difficult to use comfortably as an ebook, but my kids would probably disagree.  As a bonus, buying a Reformation Study Bible also gives you free access to a variety of Reformation Trust ebooks and audio series about theology.
Note:  I personally am very happy with the Reformed point of view of this study Bible.  I also appreciate the traditional Biblical point of view which comes through strongly.  If you, however, wish a study Bible with a more modern approach and a less definite theological point of view, you may prefer the study Bible I reviewed earlier.
—
This is yet another book in the in the 2015 52 Books in 52 Weeks Challenge and is also linked to Saturday Reviews, Booknificent Thursdays, Literacy Musings Monday, and The Book Nook. 
For more encouragement, visit Raising Homemakers, Titus 2 Tuesday, R&R Wednesdays.
Disclosure: I received a copy of this study Bible from Reformation Trust Publishing and Ligonier Ministries for the purpose of this review.  All my opinions are my own, and I am not compensated for sharing them.