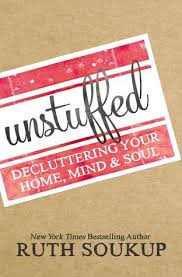 Occasionally I feel burdened by stuff.  Sometimes it's our stuffed bookshelves, other times it's my to-do list, and often it's my desk which seems to attract all the piles that build up nowhere else.  Usually my approach is to get busy and do something about it, but recently I was too tired for that so I read about it instead.
Unstuffed: Decluttering your Home, Mind, and Soul by Ruth Soukup is an easy read and full of helpful information.  It has countless checklists, not only about how to get rid of stuff, but also about how to neaten, prioritize, plan, organize, and make wise decisions.
Ruth covers many expected areas, from creating a vision for your home, considering storage, and stopping the flow, to paperwork, kids' stuff, and other people's stuff.  In addition to the usual decluttering topics, she discusses authentic friendship, wellness, and how God has cleaned up our mess.
Although Ruth's life has been very difficult at times, she provides hope by presenting the wisdom of the Bible.  For example, in the chapters on schedules and on wellness, she points out that we cannot create balance.  Achieving balance is not something to add to our to-do lists, but something that comes from rest. We were made to rest as well as to work.  Ruth highly encourages taking a day off each week and she actually lists the benefits of going to church.
To those who protest that they have too much to do to be able to take a day off, she says "…there will always be more to do. Every day. For the rest of our lives.  Look at it this way—if God could take a day off without the world falling apart, so can we." p107
In the final chapter "Spirit" Ruth discusses "Letting Go of the Need to Do It Yourself." She tells how God worked in her life, watching over her as she went from being a go-getter, do-it-yourself Christian girl through rejection of Christianity and horrible mental illness to being a happy wife, mother, and business woman, still a go-getter, who realizes that
"The world tells us we have to do something to matter but the reality is the opposite.  It's already been done. The most important task on our to-do list is simply accept it." p97
In conclusion, Ruth points out, "Grace is the answer we are often too stubborn to believe and too proud to receive…. The gift has already been given.  The work has already been done….I can't think of a better way to become unstuffed than to finally recognize, understand, and truly believe that my slate has been wiped clean, once and for all."
If you are a person overwhelmed by physical stuff I recommend Unstuffed.  You will find effective practical help with the nuts and bolts of decluttering and neatening as well as with your mindset about stuff.
If you are overwhelmed by trying to achieve worth by doing more, by trying to fix your own life, by trying to be good enough for God, you will benefit from Unstuffed even more.
May God bless you as you seek to declutter your home, mind, and soul.
—
If you are uncertain about how to take a day off, why not look at how God took the first Sabbath rest, in this practical article by Rev. Ken Koeman.
Note:  Ruth Soukup, blogger, author, and mentor, is currently starting a new podcast, Do It Scared, to help women dare to do what matters.
—
If you enjoyed this article, you might want to follow me on Google+, where I often mention helpful or interesting ideas, friend me on Facebook where I am just a newbie, or connect with me on GoodReads where I share what I read. 
Disclosure: We borrowed this book from our library.
This article may be linked to Saturday Reviews, Booknificent Thursdays, 52 Books in 52 Weeks Challenge, Literacy Musings Monday, and The Book Nook  as well as to Inspire Me Monday, Raising Homemakers, Friendship Friday, Make My Saturday Sweet.