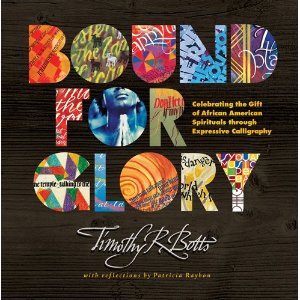 Here's a beautiful gift book that could be used in a homeschool as well.  Bound for Glory is a volume of expressive calligraphy and thoughtful reflections on African American spirituals. 
Each of the 52 spirituals is allotted a colorful two-page spread. The calligraphy that Timothy R. Botts 'stewed over' for 8 years vividly expresses the emotion in each spiritual.  Patricia Raybon's poetic reflections tie the songs to both the past and the present, and occasionally Botts explains his paintings. Comforting, challenging Bible passages accompany each one.
Bound For Glory's spirituals are grouped under four headings.
Spirituals included in 'The Bible Story' such as 'Joshua Fought the Battle of Jericho' and 'Didn't My Lord Deliver Daniel' assured the singers that God would bring deliverance.
'Deep River' and 'Nobody Knows the Trouble I've Seen' obviously represent 'Times of Trouble' of which the slaves had so many.
'True Testimony,' the next section, joyously presents 'He's Got the Whole World in His Hands'—even the little baby that was taken away and sold.  These poor, down-trodden people boldly sang 'This Little Light of Mine.'  I am awed at how God worked in the midst of such suffering!
'Swing Low Sweet Chariot' and 'My Lord, What a Morning' declare that the singers are 'Heaven Bound.'
While each section shows the deep, childlike faith that God gave the slaves, the main themes seem, to me, to be comfort and joy—yes, comfort and even  joy in the face of great suffering.
Bound for Joy:  Celebrating the Gift of African American Spirituals through Expressive Calligraphy is an art book, a devotional, and a dramatic history all in one.   It would make a wonderful gift.
You can read an illustrated review here. 
Disclosure: I received a free copy of Bound for Glory from Tyndale in order to give you my honest opinion of it.
This is my 47 th book in the 52 Books in 52 Weeks Challenge.