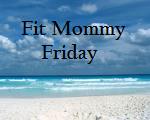 encouraging each other to care well for the bodies God has given us
My personal goal is to regain strength after a debilitating illness so that I can live a healthy, active life with my family.
Your goal may be to lose weight, look better, feel better, or run a marathon.  Whatever it is, please join Fit Mommy any time, no matter what your current level of fitness is.  You can check in using the comments at the bottom of this post.
So, this was going to be my week to get back into serious exercising after fighting germs for a few weeks.  Then my parents called to say they were driving down from the prairies for a visit, and with that happy news in mind, I changed my plans and decided that exercise would not be a priority this week.  Instead I wanted to focus on getting some extra schoolwork done, preparing the bedroom for my parents, and doing some midweek tidying.
I feel a bit guilty, hosting Fit Mommy and consciously taking an exercise break.  On the other hand, relationships, fun, and relaxation are an integral part of being truly healthy and fit.
Here's how I did with my usual goals this week.
Record my fitness accomplishments each day…Yes.
Do 7 repetitions of my eye exercises 5 days a week …Yes.
Go for a daily walk and average 6100 steps a day … No.  I took a few walks, but did not rack up enough steps.  This was partly, I think, because my pedometer has started acting up when I wear certain jeans.  I suppose it's time to switch to walking a certain distance every day, rather than counting steps on my pedometer.  My daily steps were:  ~3400, 6000, 3500, 5000, 4500, and 6100.
Do 6 repetitions of my physio exercises 5 days a week … No.  I did part of them once.  Then we got the phone call and I changed my priorities for the week.
Do 5 repetitions of my organ keyboard and pedal exercises, 5 days a week… No.  I mistook my thumb for a piece of celery while chopping vegetables and am wearing a band aid, something that doesn't go well with organ playing.
T-Tapp: Learn 2-3 pages of Fit and Fabulous each week, and practice what I know daily… Well, the book went back to the library.  But I ordered it again.
Avoid sugar five days a week … Yes, until company arrived.  Then we ate peanut butter balls and truffles, made by Miss 14.  Yum!  I do feel better without sugar, though.
Eat lots of vegetables, including fresh ones, and yoghurt … Lots of veggies.  No yoghurt.
Relax daily…No.  I felt too busy, which was silly. Also, I stayed up too late one night, not a good move at all.
Have fun with the kids, including active fun… Not much active fun, other than running up and down stairs with blankets, etc, etc.  However, we laughed, chatted, watched birds and squirrels, read aloud, and played many games.
How about you? Did you exercise, eat well, and relax happily this week?
Let's encourage each other to care well for the bodies God has given us. Please link up your health and fitness post in the comments below, and don`t forget to link back here from your post. Then enjoy visiting and encouraging other Fit Mommies just like you.
Note:  Fit Mommy Friday is the Health and Fitness Check-In column of The Christian Home Carnival.