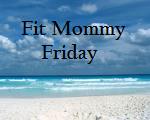 encouraging each other to care well for the bodies God has given us
My personal goal is to regain strength after a debilitating illness so that I can live a healthy, active life with my family.
Your goal may be to lose weight, look better, feel better, or run a marathon.  Whatever it is, please join Fit Mommy any time, no matter what your current level of fitness is.  You can check in using the comments at the bottom of this post.
Well, we had a wonderful visit with my parents.  We played games, visited a sugar bush, ate good food, and went for walks.  It was good to spend time with them, building up relationships.  But… I did only a wee bit of exercise.
Now that they have gone, I'm back on the dedicated exercise band wagon and, with my mom's encouragement, I'm going to be researching the fermented foods my doctor recommends.
Here's how I did with my usual goals this week.
Record my fitness accomplishments each day…Yes.
Do 7 repetitions of my eye exercises 5 days a week …Only a few times, and I'm upping the repetitions to 8 this week.
Go for a daily walk and average 6100 steps a day … No.  I did walk a fair bit, but not enough, according to my pedometer.  I'm sure it's malfunctioning, since yesterday afternoon I went to IKEA and the daily total was only 5800 steps!  In any case, I'm committing to a daily walk, and we'll see what happens to the step count.  This week my daily steps were:  ~3500, 3700,3500, 4300, 2800, 5800.
Do 6 repetitions of my physio exercises 5 days a week … No.  I did them yesterday, and that's it.
Do 5 repetitions of my organ keyboard and pedal exercises, 5 days a week… No.
T-Tapp: Learn 2-3 pages of Fit and Fabulous each week, and practice what I know daily… The book came back from the library, so I can use it again.
Avoid sugar five days a week … No.  We visited the sugar bush.  'Nuf said.
Eat lots of vegetables, including fresh ones, and yoghurt … Lots of veggies.  No yoghurt.
Relax daily…Yes, and it was good and necessary.  After this lovely break I no longer feel as stressed as I was feeling.
Have fun with the kids, including active fun…We walked, visited a sugar bush, and played lots of games.  And we wandered through IKEA, filling our minds with beauty and ideas.
How about you? Did you exercise, eat well, and relax happily this week?
Let's encourage each other to care well for the bodies God has given us. Please link up your health and fitness post in the comments below, and don`t forget to link back here from your post. Then enjoy visiting and encouraging other Fit Mommies just like you.
Note:  Fit Mommy Friday is the Health and Fitness Check-In column of The Christian Home Carnival.