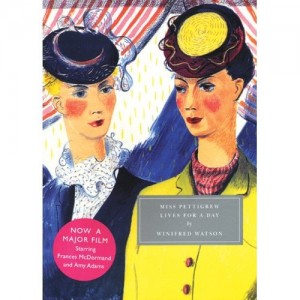 On my own, I would never, ever have picked up Miss Pettigrew Lives for a Day.  However, it was this month's selection in Jessica's online book club, Booking It, so after some internal struggles I did order it from the library.
You see, it's not my style.  A frumpy, has-been governess, looking desperately for a new position, opens a potential employer's door and steps into a world of glamor, loose morals, and substance abuse.  But Miss Pettigrew was written in 1938 and somehow Winifred Watson keeps it all as light and innocent-seeming (behind doors) as a fairy tale.
It's fun watching mousy Miss Pettigrew take charge of her new friend's life.  It's fun watching her transformation from drab to sparkling, in both personality and looks.   
It's also deeply moving to see how simple acceptance and love transform one woman and give her hope.
And it's chilling to see how an author can take a simple story line and fill it with lies that almost seem believable.  Religion, morals, and godly people are boring and deadening; sinners are loving, accepting, and appealing.  Come, all ye who suffer!  Enter the glamorous world of sin and you will be saved.  Etc.  Kind of like Hollywood.  (Yes, I'm emotionally involved.   I've seen people embrace these lies and destroy their lives, and it's heartbreaking.)
Am I glad I read Miss Pettigrew?  Absolutely.  It forced me to think about how an author can set up an unrealistic 'either/or' to portray a false view of the world.  And it pointed out how transforming love, hope, and acceptance can be.  Miss Pettigrew Lives for a Day is not a book I can easily recommend, but I learned a lot from it.
And, please, if there is a Miss Pettigrew in your life, do share some wholesome joy with her and watch her blossom.
—
This is yet one more book (I have to figure out which number) in the  52 Books in 52 Weeks Challenge, and is  linked to both Booking It and Saturday Reviews.
Disclosure: I borrowed this book from the library.