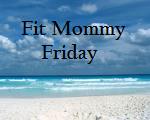 encouraging each other to care well for the bodies God has given us
My personal goal is to regain strength after a debilitating illness so that I can live a healthy, active life with my family.
Whatever your fitness goal, please feel free to join Fit Mommy any time.
This has been a great week, but too busy for me to pay much attention to fitness.   The one thing I've managed to remember every day is to walk.  I suppose that's a fitness key for me:  focus on just one thing.  And yoghurt is back into our routine, so that's almost automatic.
Here's how I did with my specific fitness goals this week.
Record my fitness accomplishments each day… Yes.
Do 10 repetitions of my eye exercises 5 days a week and relax my eyes …Only the relaxing and one set of exercises.
Go for a daily walk and average 7500 steps a day … Here are my steps for the week: 7000, 8500, 8500, 6500, 7400, 6500 with a daily average of 7400.  Not quite good enough, but close.  I'm starting to love that treadmill because it's so handy for a quick walk if the pedometer reading is a bit low at the end of the day.
Have good posture and do core strengthening exercises while walking… I remember to do this a few times a day.  When it's warm enough to swim, I sit on a ball in the water, and that's a good core strengthening exercise too.
Be usefully active for 1 to 2 hours a day, 6 days a week, without overdoing it … It's been a run-around week, and a homeschool planning week.  I've spent a lot of time sitting in the car and behind the computer, and that's no good.
Avoid sugar five days a week … No.  Miss 14 has been baking, and it's been yummy, but I really did not need to try all those samples.
Eat lots of vegetables, including fresh ones, and yoghurt … Lots of vegetables and fruit, especially snap peas, and lots of yoghurt.
Prepare and eat one fermented food a week… You know, garden-fresh food seems so much more sensible in the summer than fermented food!  I eat it ½ second after I pick it.  But I have whey, so I may try the fermented food again.
Relax daily…Most days.
Cut something out of my schedule…It's a slow time in the garden, and that helps a lot.
Have fun with the kids, including active fun…Not much of anything with all of us together, but quite a lot with different kids at a time.  That feels funny and I'm a bit sad about it, but it seems to be a new stage we're entering.
How about you? Did you exercise, eat well, and relax happily this week?
Please link up your health and fitness post in the comments below. You can use your own format, your own goals, and post on whatever day works for you. Just don't forget to link back here from your post.
Note: Fit Mommy Friday is the Health and Fitness Check-In column of The Christian Home Carnival.