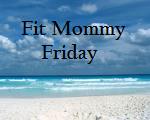 encouraging each other to care well for the bodies God has given us
My personal goal is to regain strength after a debilitating illness so that I can live a healthy, active life with my family.
Whatever your fitness goal, please feel free to join Fit Mommy any time.
My main goal this week was to take it easy. I did, and feel much better…and I even accomplished a few of my regular fitness goals:
Record my fitness accomplishments each day… Yes.
Do 10 repetitions of my eye exercises 5 days a week and relax my eyes …Seven repetitions three times.
Go for a daily walk and average 7500 steps a day … No, but Saturday and Wednesday were full of walking. My pedometer seems to be working at less than half of the count, so here are my estimates for the week:  3300, 7000, 7000, 6000, 7000, 5000, but they could easily be out by 1000 steps either way.
Have good posture and do core strengthening exercises while walking… Still working on it.
Do 4 reps of my physio exercises 6 times a week… No.
Be usefully active for 1 to 2 hours a day, 6 days a week, without overdoing it … I hung up laundry, dug potatoes, picked and pickled beans, weeded a bit, swam, and puttered around the house.
Avoid sugar five days a week … No.  My husband is on holidays, and we're eating some special foods.
Eat lots of vegetables, including fresh ones, and yoghurt … Yes to the veggies, no to the yoghurt.
Prepare and eat one fermented food a week… No. I'm continuing to focus on fresh veggies.
Relax daily…Kind of.
Cut something out of my schedule…Next week I plan to add the regular walking again, and I'm hoping to get the house ready for an easy start to the schoolyear.  So, no, I'm not cutting anything out of the schedule, but I'm trying to manage it for the future.
Have fun with the kids, including active fun…We swam, had company, read aloud a lot, went out twice, and enjoyed having Daddy around.
How about you? Did you exercise, eat well, and relax happily this week?
Please link up your health and fitness post in the comments below. You can use your own format, your own goals, and post on whatever day works for you. Just don't forget to link back here from your post.
Note: Fit Mommy Friday is the Health and Fitness Check-In column of The Christian Home Carnival.