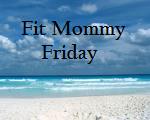 encouraging each other to care well for the bodies God has given us
My personal goal is to regain strength after a debilitating illness so that I can live a healthy, active life with my family.
Whatever your fitness goal, please feel free to join Fit Mommy any time.
One of the healthiest things I do these days is pick raspberries.  It involves mild full-body stretching, ducking, bending, and reaching; I always take a few nibbles of sweet healthy goodness; and it's supremely relaxing, with Mr. 17's bees contentedly buzzing around the raspberry flowers and the chickens clucking and grumbling over the bad raspberries I toss to them.  I also (re)discovered that washing lots of canning jars and standing on my feet for 4 hours is hard physical work.  Then there's all the bending to pick tomatoes, hot peppers, and pumpkins.  I love this squirreling time of year for many reasons!
There's a lot of exercise in all these old-fashioned activities.  No wonder women in the old days were fitter; they were constantly moving and only sat down to eat or sew or nurse their babies.
I did not meet my formal exercise goals this week, but I was active most of the time:
Record my fitness accomplishments each day… Only 5 days, instead of 6.
Do 10 repetitions of my eye exercises 5 days a week and relax my eyes whenever I think of it …2x.
Go for a daily walk and average 7500 steps a day … Here are my steps for the week:   8600, 8000, 7500, 7300, 6800, for an average of 7640.
Have good posture and do core strengthening exercises while walking; sit straight at the computer… When I'm hurrying off to the garden or wading down the river, it's a different kind of walking, and I forget.
Work on the Callanetics maintenance program… Nope.
Be usefully active for 1 to 2 hours a day, 6 days a week, without overdoing it … I hung up laundry, harvested, shopped, and puttered around the house.  Lots of small efforts do add up.
Avoid sugar five days a week … I had a few too many brownies, and I drank some cola yesterday to get the energy to keep on going.  Dumb!
Eat lots of vegetables, including fresh ones, and yoghurt … Yes.
Prepare and eat one fermented or soaked food a week… Yes, a few breakfasts of soaked buckwheat groats. And I'm planning to make sauerkraut again.
Relax daily…Most days.  During one incredibly stressful doctor's visit, the trees outside the window made me feel like a new person.  It was like switching a knob;  that's how quickly the stress drained away.  After seeing how the stress of that visit drained my physically, I've decided to practice deep belly breathing regularly again.  That, too, is very relaxing.  And, praise the Lord, I need no surgery and it was all a false alarm!
Cut something out of my schedule…  Right now all I do is homeschool, harvest, food prep, laundry, and some reading/writing when the other tasks have tuckered me out.  And sleep.  You can't really get more basic than that.
Have fun with the kids, including active fun…We harvested, read aloud, and walked down the river.
How about you? Did you exercise, eat well, and relax happily this week?
Please link up your health and fitness post in the comments below. You can use your own format, your own goals, and post on whatever day works for you. Just don't forget to link back here from your post.
Note: Fit Mommy Friday is the Health and Fitness Check-In column of The Christian Home Carnival.