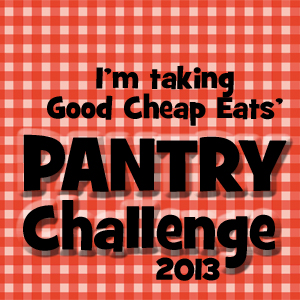 We're one week into our January Pantry Challenge, and we've been eating very, very well.  Most days we did as we had planned and pulled the equivalent of a shoe box full of food out of our freezers:  ribs, chicken, sausages, soup stock, frozen veggies, frozen fruit, and even ice cream.  It's been yummy, although some of the children thought that eating liver and onions at the same meal as spinach and coleslaw was a bit much.
To me, that symbolizes the value of a pantry challenge.  I buy liver when it's on sale, but because a few of my children have sensitive palates (i.e. they don't like certain foods even though they'll eat them bravely), I actually hate serving such foods.  Yet, liver is good for us, especially some of us, and having a pantry challenge forces me to face these issues and deal with them.  Last week I just served liver and onions at the dreaded supper.  This week I'll probably serve some other meat else as well, since the liver only comes in little packages.
One of my goals was to eat more squashes and pumpkins, but we ate only squash this week, not pumpkin.  It didn't help that I did not feel well for a few days.  This week, today in fact, I'm planning to make something with pumpkin.  Yum!
And finally, I planned to stay out of grocery store last week.  That goal seemed easily achievable until I looked at our dwindling supply of toilet paper.  Armed with this iron-clad excuse, I went off to the store–most cheerfully of course.  And, since there was a very good sale on apples, oranges, grapefruit, and broccoli, I bought some.  While I was there I stocked up on our produce basics:  potatoes, carrots, onions, and cabbage as well.  And Miss 15 had pointed out that we 'needed' coconut.  And gluten-free luncheon meat was 33% off, so I stocked up.  Yep, it was a high-volume shopping spree, but also a high-value one.
So, how did the pantry challenge go this week?  I'm satisfied.  Yes, we had an unanticipated shopping trip, but it's good to have fresh produce as well as frozen food.  We certainly did eat a lot from our freezers so that goal was achieved.  Moreover, all week we were able to concentrate on healthy food for our family.  And that, after all, is what it's all about.
Next week's goals will be the same:
eat about a shoe box's worth of food from the freezers each day,
enjoy more squash and pumpkins, and
minimize grocery shopping.
If you have a pantry or freezer to get under control, join Jessica's Pantry Challenge!  This post is also linked to Frugal Tuesday Tip, Better Mom Monday, Encourage One Another Wednesday, Women Living Well Wednesdays, Works For Me Wednesday , Wisdom Wednesdays, Raising Homemakers, and Frugal Friday.