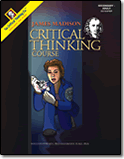 As our culture becomes increasingly visual, it is more important than ever to be able to think critically.  One very helpful resource for high school students is the James Madison Critical Thinking Course.
A formidable-looking 534-page book, the James Madison Critical Thinking Course introduces the learner to both critical thinking and logic by analyzing crime scenes. In solving her mysteries, Detective Stephanie Wise identifies and evaluates evidence to guide her decision making.  Working with her, the student learns a set of skills to help him decide 'whether a claim is, or probably is, true or false'.  This is the goal of the course, and it is achieved in an unexpectedly lighthearted, appealing way.
Beginning with a basic introduction to critical thinking and the difference between facts and opinions, this course proceeds to chapters on arguments (both deductive and inductive), categorical syllogisms, and informal fallacies.
Each section of the book begins with a short unsolved mystery and a page or two of formal teaching. Extensive practice exercises—analyzing evidence about the mysteries— follow to reinforce the concepts.  Although the exercises are mostly multiple choice, they are not very simple.  Letters and symbols are used to represent parts of sentences or arguments, as is standard in more formal logic courses. Fortunately, the crime scenarios help the student transfer abstract learning to actual situations.  Each of the eight chapters ends with a short but well-designed quiz, making it easy to give a homeschool grade for this course.
One might suspect that the detective theme approach to an otherwise dry subject would dumb the content down, but the James Madison Critical Thinking Course is a solid logic course for high school students and is also used by adults preparing for standard assessment tests such as the James Madison Test of Critical Thinking or the Cornell Critical Thinking Test.
The indispensable Instruction/Answer Guide with its clear answers and explanations makes it possible to use this course in your homeschool even if you do not know logic yourself.
Foundational Assumption of this Course
The basic assumption of Critical Thinking is, obviously, is that it is good to be a critical thinker.  When this concept was defined, I became uncomfortably aware that I do not exactly share the book's view of critical thinking.  As a Christian, my critical thinking goal for my teens is to equip them to "destroy arguments and every proud obstacle to the knowledge of God, and take every thought captive to obey Christ" (2 Corinthians 10:5).  The course not only equips the learner to do so, but also occasionally gives a chance to see the effect of the authors' assumptions on some of their conclusions.  This unexpected real-life application of the material, though rare, is a definite bonus.
How We Are Using It
Because my teens had already studied informal logic, fallacies, and some formal logic, we did not start working seriously until Chapter 4:  Valid and Invalid Arguments. I assigned a certain amount of work per week and let my teens do it independently, skimming over the material as I marked it.
This worked until Mr. 17 was forced to drop the course due to time constraints. Suddenly Miss 15 needed to discuss problems with me instead of her brother. So I scrambled to catch up and help her, reading the book on the treadmill (it lies open beautifully although it is so thick), and doing the exercises in spare moments.  Since I have not yet caught up, Miss 15 helps me when I get stuck, an empowering experience for her.
Although the course is reproducible within a family, we do the problems in scribblers or on loose leaf paper.
Our Thoughts
To finish the book in an average school year, you'll need to do about one exercise a day, which is usually manageable but occasionally time-consuming.  As we discovered, the James Madison Critical Thinking Course is not a fluffy add-on to an already full schedule but a course in its own right.
Although some homeschooling parents want their middle school children to do high school work, this course is not a good option for younger teens working independently, unless they are already able to do high school level work in other subjects.
While it is possible for teens to study this course on their own, it's better if they have someone to discuss concepts with.
The formal teaching pages are full of well-organized information, presented concisely and often worth memorizing.  The quizzes test this information.
The mysteries are a blast and occasionally funny, the examples are usually clear, and the exercises reinforce the concepts being taught.
Obviously, the mystery stories are about bad people and events.  Although I know some who would be offended by them, these stories are much better than the news and most movies.
Unlike the beloved Encyclopedia Brown books of childhood, this course does not actually solve any of the mysteries; even if you do all the exercises you won't be sure of the solution.  At first this frustrated my teens.
Miss 15 and I enjoy this course.  Once in a while Mr. 17 peers into the book almost wistfully, wishing that he had the time to enjoy the mysteries too.
Miss 15 and I were surprised by some of the assumptions of this book, such as the totally foreign idea that a spouse should always be a main suspect in a murder case, or the fact that Chevrolet makes Corvettes.
If you want your high school students to learn logic and critical thinking, the James Madison Critical Thinking Course is wonderful resource.  It's fun, relevant, and challenging, and comes with a clear and thorough answer key.  While not a formal logic course, it is probably more useful than such a course could ever be, and it would also be a good preparation for one.
More Information and Purchasing
The James Madison Critical Thinking Course is one of Cathy Duffy's 101 Top Picks for Homeschool Curriculum (see my review here).  For more information or if you wish to view sample pages, visit The Critical Thinking Company website.  When ordering, note that the answer key needs to be purchased separately.
Disclosure: I received a copy of the James Madison Critical Thinking Course in order to review it. This review presents my own honest opinions, and I am not compensated for it in any way.
For more about classical education and highschool visit Trivium Tuesdays and No Fear Homeschool High.