When I was a girl, I was crazy about horses and my dear parents bought three over the years.  Most  girls, however, have to be satisfied with reading about horses but, honestly, most modern horse books are full of undesirable elements—nasty relationships with girls, silly relationships with boys, and negative relationships with families.  On top of that, evolution is usually assumed in fiction and is actively promoted in 'nonfiction'.
Vicki Watson has avoided all this in her well-written Sonrise Stable Series.  In fact, she faces such issues head-on.
In Clothed with Thunder, Rosie and her newly adopted sister Carrie are told all about the evolution of the horse at a 4-H speech.  With the help of Grandma, who is recovering from a broken leg, and their homeschooling Mom, the girls prepare their own speech on the creation of the horse.
But that is not the only thing going on. In Clothed with Thunder, Rosie also learns about kindness and second chances as her extended family pursues a dream.  Together, they are hoping to buy their own stables and have found a place that seems almost perfect.  The barns are new and the property will be ideal for trail rides and camp.  There's plenty of room for their own horses with extra stables to spare.  The only problems are the house, which is a disaster, and the nearness of Billy King, who cheated Rosie out of her first trophy.  But they put in an offer for the property anyhow….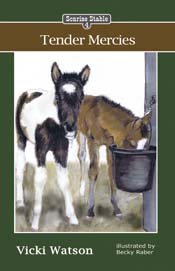 In Tender Mercies Rosie and Carrie volunteer at Last Chance Corral, a horse and foal rescue farm.  They learn how cruel some people can be and how God uses other people to show mercy to animals. Although they are used to horse care and stable chores, the girls have never worked this hard before.   As they care for a group of abandoned foals and learn to love one in particular, Rosie wonders if there is any possibility of taking him home.  She also realizes, to her chagrin, that her newly adopted sister Carrie does not always agree with her.
These are appealing stories, fast-paced, authentically horsey, and full of wisdom.  My Little Misses (10 and 12 years old) really enjoyed them, and so did I.  I highly recommend the Sonrise Stable series for any child in love with horses.
These books are great, but as a former horse-loving girl, I know that reading about horses is not always enough.  If you want hands-on work with horses but cannot afford lessons or do not have space to own a horse, try volunteering with your local therapeutic riding organization.  Not only will you learn a lot about horses, but you'll also be helping handicapped people and contributing to your community. 
Disclosure I received a free review copy of these paperback books from Vicki Watson in order to share my honest opinions.
This post is linked to Encourage One Another Wednesday, Raising Homemakers, Be Inspired by Others, Hearts for Home, Kid Lit Blog Hop, and Saturday Reviews.