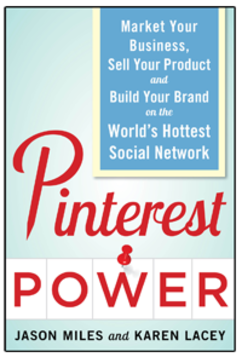 Did you know that a day has only 24 hours?  It's a lesson I'm trying to learn, and that's why I love Pinterest Power by Jason Miles and Karen Lacey.  Rather than wasting time learning by trial and error—and probably still missing things— I am learning the ins and outs of Pinterest from this book.
And now, instead of feeling vaguely lost among the pin boards, I'm having fun.  I'm beginning to understand the joy of curating lovely boards and of organizing ideas visually.
Pinterest Power: Market Your Business, Sell Your Product, and Build Your Brand on the World's Hottest Social Network will help small businesses—the kind many of you have.  And for those who just want to share without making money, Pinterest Power can help us reach more people with our hard work.  Because, unlike information on other social media, Pinterest pins remain visible and valid over time.
In their book, Miles and Lacey first trace the history of Pinterest and show how it works for some of the big name pinners.  Then they discuss pinning, from the basics to advanced ideas, as well as content, copyright, traffic analysis, tips, interacting with other pinners, and, of course, real time blogger success stories.  A whole section is devoted to Pinterest selling and monetization strategies, but Pinterest can also help non-profits and communities of all kinds.
This Amazon catergory best seller is organized uncommonly well.  I love how many topics are summarized according to their Principle, Practice, and Profit—for example 'The Three Ps of the Pinterest Social Cycle.'  A detailed table of contents and a thorough index help the reader find any topic. This truly is a book to have at your side as you pin the things you love and want to share…or market.
Although Pinterest Power is totally about Pinterest, not faith, and is thus accessible to a broad range of readers, I love the wholesome Christian attitude that permeates the book.  It makes me feel at home.
I have read Pinterest Power twice now, and am beginning to do what Miles and Lacey suggest.  I'm repinning great pins, figuring out how to put words on pictures, organizing my boards, and meeting fascinating people.  And I'm beginning to pin my own curriculum and book reviews.  I would like to share my reviews with many more homeschooling moms.  After all, that's why I wrote them.  If you follow me on Pinterest, you'll be able to find them all, eventually, organized by subject or topic.
Published in 2013, Pinterest Power is as up to date as it is possible to get.  Learn more about Jason Miles at Marketing on Pinterest.  Of course, you can also follow him on Pinterest.
Next week I'll post about a Pinterest Project I'm planning, based on this book.  If you like Pinterest, be sure to join in and follow my new Pinterest Project group board for updates and to pin your favorite Pinterest pins.
This is yet another book in the 2013 52 Books in 52 Weeks Challenge and is also linked to Saturday Reviews, Encourage One Another Wednesday, Works For Me Wednesday , Raising Homemakers, Growing Home, Above Rubies, Wisdom Wednesday.
.
Disclosure: I received a copy of Pinterest Power from Jason and Cinnamon Miles for the purpose of this review.  As always, I am not compensated for this review, and I have expressed my honest opinions.