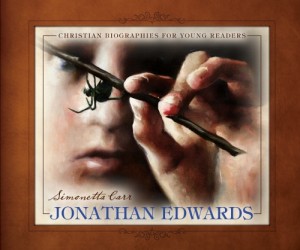 When many ideas about God, life, and the world were being questioned seriously for the first time in centuries, Jonathan Edwards grappled with them, both in his life and his teaching. His answers to these questions greatly influenced the age he lived in and have also left a mark on the way we think today.  In this insightful biography, Simonetta Carr shows us the life, times, and work of this great man of God.
As a youth, Jonathan spent many happy hours in the college library and in Creation, pondering the nature of light, rainbows, and forest spiders. He was both studious and serious, agonizing over questions of faith and greatly comforted at seventeen when the Holy Spirit filled the words of 1 Timothy 1:17 with meaning for him:
"Now unto the King eternal, immortal, invisible, the only wise God, be honour and glory for ever and ever."
Simonetta traces the life of this gifted man through his studies, his marriage, his ministry, the Great Awakening, and more, including details that make him come alive. Did you know that when Edwards would go riding for exercise, he would take along paper and ink and pin his notes to his coat, and that his happy wife Sarah would unpin them and organize them? Or that when he was asked to be president of what would become Princeton University, he objected because of his health, his bouts of depression… and his inadequate knowledge of higher math?
Edwards did not live in an ivory tower but very much in the nitty-gritty of everyday life. God gave him many opportunities to make his faith real as he worked in the Great Awakening, was fired from his congregation, evangelized natives, faced danger from war, suffered poor health, watched family members die, and grappled with a workload that was too heavy for him.
In this biography we are also introduced to the English preacher George Whitefield and the young missionary David Brainerd, both of whom greatly influenced Edwards's family and ministry.
The book ends with a touching letter from Jonathan Edwards to his daughter Mary, in which he talks at great length about how important it is for her to live closely to God, especially 'considering what a dying time it has been with us in this town about this time of year in years past.' That simple quotation puts the whole book in context; Edwards lived in a time when death was an everyday reality, and this fact sparked the beginning of the Great Awakening.
Nowadays almost all Christian ideas are being seriously challenged. Jonathan Edwards lived when such questions were just beginning and spent much of his life answering them.  Just like Augustine, Aquinas, and Schaeffer, he tried to equip Christians during a major influx of ungodly ideas.  We can be very thankful for God's work through him.
Simonetta's clear writing and the many illustrations, including Matt Abraxis's luminous paintings, make this a fascinating introduction to the life and times of Jonathan Edwards. A map, a timeline, and some miscellaneous facts round out the book.  I highly recommend Jonathan Edwards for all those studying church history, American history, and the great ideas.  It will appeal to teens and adults as well as those in the target age range of 7-12.
For more information and a preview, visit the Christian Biographies for Young Readers website.
—
To read about other great thinkers who helped Christians deal with new ideas, I recommend these books I have reviewed:
Augustine of Hippo by Simonetta Carr (another accessible introduction)
How Should We Then Live? by Francis Schaeffer (a clear, insightful history of ideas)
—
This review is linked to Saturday Reviews, Booknificent Thursdays, Raising Homemakers, Finishing Strong , and Trivium Tuesdays.
Disclosure: I received a copy of this book from Reformation Heritage Books via Cross-Focused Reviews for the purpose of this review.