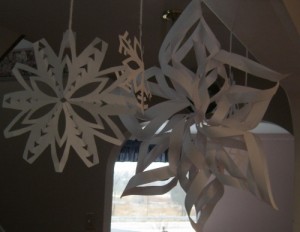 One day my daughters began to cut out snowflakes and soon we had a paper blizzard.
Now snowflakes, airy white shapes of magical beauty, hang everywhere.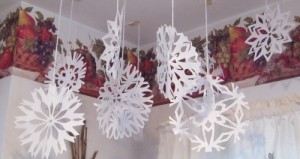 If you wish to fill your home with them too, you can make your own free-form snowflakes, as we did for a while, or you can use patterns.
The best ones we found are on this Italian site, but you don't need to read the language to use the 24 stunning snowflake patterns.
You can also try a three-dimensional snowflake.  They look complicated but last Sunday Miss 12 showed her best friend how to make one no time flat.