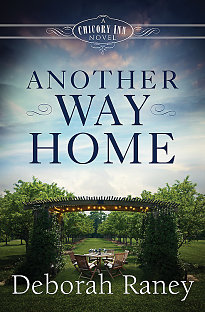 Danae had only one wish these days. She wanted a baby, and that desperate desire colored her whole life, straining her marriage and her relationship with her sisters, her family, and God. The infertility treatments weren't working, not even after three long years. On top of that, her husband Dallas refused to consider adoption, because he himself had been adopted.
Finally Danae realized that she had to do something, anything, to get her mind off her obsession, so she began to volunteer at a women's shelter. It was scary at first, with two safe rooms and all sorts of security protocols in case the women's partners would find them. Although Dallas was still concerned, Danae got over her nervousness after a while, and befriended Misty and her sweet little boy Austin.   And then, one horrible day Misty's abusive husband showed up….
With the close-knit Whitman clan of Home to Chicory Lane and Two Roads Home (links to my reviews) supporting them, Danae and Dallas faced a future they could never have imagined, one that God had been planning all along.
Like these other two Chicory Inn books, Another Way Home is about family in all its aspects: marriage, parent-child relationships of all ages, sibling relationships. Deborah Raney's sympathetic characters are true to life, depending on God and each other, struggling with the difficulties of life, slowly learning to see their own sinful blind spots. As we follow Danae's struggles the author wisely and subtly contrasts the ways of self-pity and of gratitude.
This Deborah Raney novel, just like the other ones, has something for everyone, not the least because we all struggle with self-centered sin and we all need to be reminded that God's ways are good. Another Way helped me through a difficult time and I found it hard to put down.
This is yet another book in the in the 2015 52 Books in 52 Weeks Challenge and is also linked to Saturday Reviews, Booknificent Thursdays, Literacy Musings Monday, and The Book Nook.  
Disclosure: A review copy of this book was provided by LitFuse.