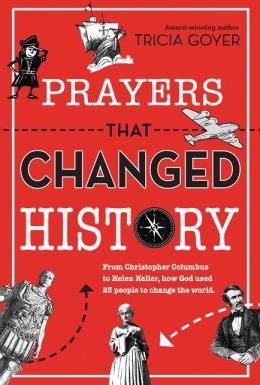 Tricia Goyer, homeschooling mother of many, wrote this unique devotional church history book to teach children about prayer and to encourage them to pray.  She focuses on historical characters whose prayers had wide ranging and long lasting effects, and her refrain is, "And history was forever changed."
There are various aspects to this book.  Children—and their parents—will learn about heroes of the faith, from Polycarp, Oswald of Northumbria, and Governor William Bradford to Mary Jones, Amy Carmichael, and Dietrich Bonhoeffer.  Their stories, greatly simplified and somewhat sanitized, are presented in an age-appropriate way.
Each chapter includes the person's story and significance, a prayer by or about him or her, a related Bible passage, and applications to the reader's own life.  Thus the reader is inspired by prayers of God's people, by Bible stories, and by Tricia's encouraging discussions.  These discussions are, on the whole, well-done. Tricia is careful to write so generally that she avoids most areas of theological conflict, so this book can be used profitably by children of most Protestant Christian backgrounds.
So often stories of great Christians involve horrifying suffering that children (and many others) do not need to be exposed to in detail.   Tricia, herself a mom, understands that better than many writers of such mini-biography collections, and this is one of the things I really appreciate about this book.  Rather than being gloomy and discouraging, it is upbeat and tells of God's power and goodness in history.
Prayers that Changed History reminded me of things that I knew about prayer, life, and parenting that had slipped my mind during a time of stress, important truths like, "The more we pray with a right heart, the more we are changed." May God bless Tricia for her dedication to writing books that surround us and our children with truth and point us back to the Bible and God's goodness.
Consistently encouraging, very occasionally a bit scattered, and eagerly pointing to Jesus, this is a book that will benefit children as well as the parents who go through it with them.  It is obviously more than a book of mini-biographies and more than a devotional, and the two aspects enhance each other.  I recommend it as a devotional, a church history text, a Bible study book, or even a unique approach to history class; because of the various sections in each chapter, the emphasis can easily be changed depending on your goals for the book.
Prayers that Changed History is a worthwhile addition to homes, church libraries, and homeschool libraries.  If you can get it into your public library, you will be blessing unknown children and maybe their families as well.
—
How does this book compare with other church history mini-biographies?
Prayers that Changed History by Tricia Goyer:  slightly sanitized stories of faith, prayer, and God's actions in the world; suitable for children and encouraging for everyone.
Simonetta Carr's series Christian Biographies for Young People:  gorgeous pictures, detailed but child-appropriate history, moral applications; written for children but inspiring for all ages.
Trial and Triumph by Richard Hannula:  detailed stories, emphasis on martyrs, does not gloss over torture and martyrdom; suitable for most teens and adults, but perhaps overwhelming for some.
Saints and Scoundrels by Robin Phillips:  moral applications, challenging study questions, detailed descriptions of violence; for older teens and adults.
—
This is yet another book in the in the 52 Books in 52 Weeks Challenge and is also linked to Saturday Reviews, Booknificent Thursdays, Literacy Musings Monday, What to Read Wednesdays and The Book Nook.  For more encouragement see Raising Homemakers, Titus 2 Tuesday, Tell it to Me Tuesday, and Finishing Strong. Trivium Tuesday
Disclosure: I received a review copy of this book and, as usual, am not compensated for this review.