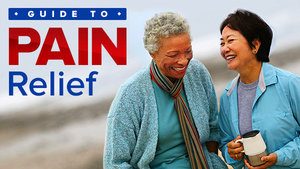 People who go to the Mayo Clinic Pain Center are often at their wits' end.  Nothing else has worked, they are in great pain, and their lives have narrowed down to focus mostly on pain and health issues.  Yet, with treatment, guidance, and pain management plans, many of them are able to feel better, reduce or eliminate their medications, and 'get their lives back', although what they can do is often different than before the disease or injury.
Accessing pain clinics often involves long waiting times and/or considerable expense, although pain clinics that cater to teens are more accessible, in our area at least.  The Mayo Clinic Guide to Pain Relief, an online course from The Great Courses Plus, can help.
In this video course Dr. Barbara Bruce, together with other Mayo Clinic experts, first explains pain and discusses medication's pros and cons.  Then she moves on to things that sufferers can do to address their pain as she:
discusses healing sensitized nerves and spinal cords,
encourages movement that increases general health, reduces disability, and reduces secondary pain,
explains stress and gives tools to reduce it,
encourages social interaction, explains its value, and provides care for caregivers,
explores the relationship between pain and sleep with practical advice for better sleep,
demonstrates how chronic pain can lead to grief,  anxiety, and depression and  gives tips on how to manage these,
explains how to build your own pain management team by showing how pain rehabilitation centers work to help sufferers and their families,
teaches how to create a personalized pain management plan with SMART goals and ways to keep track of them; how to make time available for this;  and how to plan for bad days.
The course finishes with
a set of simple range of motion exercises, strength training (upper body, core), and aerobics options, all with detailed instructions for how and when to progress and how to record progression, and
a sample guided meditation practice to help calm the autonomic nervous system (i.e. reduce pain, sensitization, and so on).
Throughout the course the emphasis is on empowering people with chronic pain, and the goal is to help them 'get their lives back' both by reducing the pain they feel and by increasing their strength and resiliency.  Anyone who takes the course and follows the instructions will have the beginnings of a pain management plan by the end of it, and will have learned enough to be able to begin to feel better.
Is this course for you?  The answer is 'yes'
if you suffer from chronic pain
if pain has become or is becoming a major focus of your life,
if pain is interfering with everyday activities—work, school, relationships,
if you wish to reduce or eliminate your pain medication,
if you care for a person with chronic pain, or
if a family member experiences chronic pain.
With respect to the last two points, the Mayo Clinic Guide to Pain Relief can be very helpful for caregivers, especially when the person who suffers is unwilling or unable to take it.  It helps caregivers and families understand pain, know what to encourage (e.g. socialization) and what to minimize (e.g. overdoing it), and gives them tools to thrive while supporting the person with pain.
Although I personally do not suffer pain (as long as I do what my doctor says), I do experience severe physical limitations due to very low exercise tolerance, and this course is proving helpful in dealing with that as well.  However, I took it because one of my favorite people is in constant pain and I wanted to learn to help her.  I think this pain course has given me both knowledge and tools to do a better job.  If you or a loved one experience chronic pain, I highly recommend it.
—
Note that nowhere in the Mayo Clinic Guide to Pain Relief are faith, trust, prayer, sin, guilt, repentance, forgiveness, grace, comfort, or Christian hope spoken of.  That is, of course, a huge gap in addressing the experience of a Christian undergoing pain.  Soon I will post a review of Embodied Hope:  A Theological Meditation on Pain and Suffering, a wise and powerful guide to understanding physical pain biblically.  Kelly Kapic, a pastor whose wife suffers chronic pain, reminds us that it is vital to remember that God is powerful, wise, caring, and good, and that he has given us other believers to encourage us.  Kapic sensitively addresses the issue of how to live as a Christian in the midst of pain, your own or that of a loved one.
The Mayo Clinic Guide to Pain Relief, composed of 12 half hour sessions, is available from The Great Courses Plus (currently they are offering a free month) and can also be bought from Amazon.  Because the video aspect of the course contains relevant diagrams and notes, I do not recommend using an audio version.
—
If you enjoyed this review, you might want to follow me on Google+ where I often mention helpful or interesting ideas, or connect with me on GoodReads where I (eventually) share what I read.
This article may be linked to Raising Homemakers.
Disclosure: I took this course using a free trial from The Great Courses Plus and am not compensated for sharing my honest opinion.