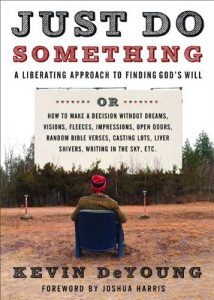 We all have a lot of decisions to make and, according to DeYoung, our evangelical culture does not promote wise decision-making.  Part of the problem is that we have so many choices to make, but much of the time we are swayed by incorrect theology.  This dramatically reduces our effectiveness, both in our personal life and our Christian witness.
As a foundation to his whole book, DeYoung carefully explains the three ways we use the phrase 'the will of God'.
First of all he talks about God's sovereign will, in which God plans things and makes them happen.
Then he talks about how God wants us to live according to the moral laws that he has given us in the Bible, which he calls God's will of decree.
Finally he explains what some Christians tend to mean when they talk about God's will, which he calls 'God's will of direction.'
Many Christians will find his discussion of the latter illuminating.  He asks, "Does God have a secret will of direction that he expects us to figure out before we do anything?"  The answer?  Yes, God does have a specific plan for our lives, but, no, we do not need to play guessing games with God to figure out what that plan is.  In other words, though there may be significant reasons why we desperately want to find out God's plan for our lives, he does not give us access to that knowledge in any detail.  What we do know is that his plan for us is that we become more like Jesus and that we obey his will of decree, i.e. his moral laws.
Rather than guessing God's will for vital but non-moral issues such as career choices, marriage partners, and where to live, we need to learn wisdom from the Bible, other Christians, and prayer, so that our minds will be transformed and we will be able to make God-honoring decisions.  Provocatively, DeYoung states that we need to 'grow up in faith' rather than 'letting go and letting God'.
I am grateful that this is the approach to decision making that I was taught as I grew up.  Yes, growing in wisdom and being transformed by the renewal of our minds is tough.  Yes, there are mistakes, and, no, we don't want to be responsible for them.   Yes, we may want someone else to take responsibility.  I, too, have longed for the fleece approach at times because it seems so much easier, but DeYoung is right.  Usually God expects us to just bravely make a decision rather than spiritualizing indecision and cowardice.
To sum up, God does have a detailed plan for our lives, but we are not meant to have access to it.  Instead, God uses the Bible to tell us, among other things, how to live and how to learn the wisdom we need to make decisions.  Related to this, he nowhere guarantees us an easy life; instead the Bible often speaks of suffering.  So, just because a choice leads to difficult times does not mean we should have guessed God's secret plan better.   It does not mean that we made a bad choice, although if it was immoral, against the Bible, or selfish, it was bad by definition, regardless of the consequences.  Difficulties do not mean that we need to second-guess ourselves.  They just mean that God's secret plan (which we have no way of knowing nor need to know) involves suffering for us at that time.  We also know that our loving God has everything under his control so, in some mysterious way we do not understand at this point, it's all good.
De Young's final advice will startle some:  "Live for God. Obey the Scriptures.  Think of others before yourself.  Be holy.  Love Jesus.  And as you do these things, do whatever else you like, with whomever you like, wherever you like, and you'll be walking in the will of God."
To understand where this bold statement comes from and how to make it work practically in your own life, I recommend you read this book.  I also recommend it for all young people.
This slim volume is ideal for young people who face some of the most far-reaching decisions of their lives.  It is highly recommended for homeschools and could be part of a high school course in Bible, guidance, or careers.  The study guide also makes it suitable for a group study.  And, of course, it's a good reminder to all adults as well.
Since some people do not enjoy reading, here is an even briefer explanation of similar ideas in a sermon on 'Your will be done' based on Matthew 26:36-46 and Lord's Day 49 of the Heidelberg Catechism.  
—
If you enjoyed this review, you might want to follow me on Google+ where I often mention helpful or interesting ideas, or connect with me on GoodReads where I (eventually) share what I read. 
—
This is yet another book in the in the 2017 52 Books in 52 Weeks Challenge and is also linked to Saturday Reviews, Booknificent Thursdays, Literacy Musings Monday, Raising Homemakers. and The Book Nook. 
Disclosure: I received this book as a gift from my sister, and am buying her another copy to share with her houseful of children.