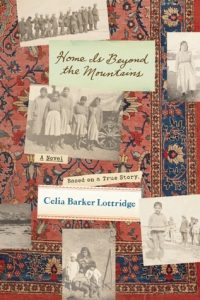 Nine-year- old Samira and her family flee their Persian village when the Turks invade at the end of World War 1.  After travelling through deserts and over mountains, facing hardship and unimaginable tragedy, she finally arrives in Baqubah, alone.  Anna, a girl her own age, reaches out to her and they move from camp to camp, from orphanage to orphanage, first far away to safety and then gradually closer and closer to home.  Their travels home include a legendary 300 mile trek on foot.
Harrowing adventure, overwhelming grief, resilience, and the indomitable courage of orphanage director Miss Shedd make for a gripping story.  The fact that this novel is based on real life makes it even more moving.
I had not been aware of this aspect of World War 1.  Truly, the world is filled with more suffering than we can imagine, but there is also and always hope.  Although Christianity is not discussed in this novel—nor is any religion—its resilience in the face of tragedy will be familiar to Christians who have suffered.
I almost cried several times during the terrible journey at the beginning of the story.  However, though this novel is based on horrible events it is not a cynical book of existential despair or nasty twists.  Rather, and incredibly, it is full of hope and resilience and as such it is suitable for its young adult audience.
Home is Beyond the Mountains is recommended as a gripping story of courage, hope, and optimism for ages 12 and up, including adults.  In terms of homeschooling, it will help students understand World War 1, as well as the Middle East before modern Jewish-Arab conflicts.
—
This is the fourth Celia Barker Lottridge book I've read recently and each story has been a joy.
Ticket to Curlew is the award-winning novel about life on the Alberta prairies in the early 1900's and it has universal appeal.
Wings to Fly, the sequel to Ticket to Curlew and a somewhat theme-driven book, is written especially for young teens.
The Wind Wagon for younger children is an exciting story of sailing across the prairies.
—
If you enjoyed this article, you might want to follow me on Google+, where I often mention helpful or interesting ideas, friend me on Facebook where I am just a newbie, or connect with me on GoodReads where I share what I read. 
Disclosure:  We borrowed this book via interlibrary loan and I am not compensated for reviewing it.
This article may be linked to Raising Homemakers, Saturday Reviews, Booknificent Thursdays, 52 Books in 52 Weeks Challenge, Literacy Musings Monday, and The Book Nook.