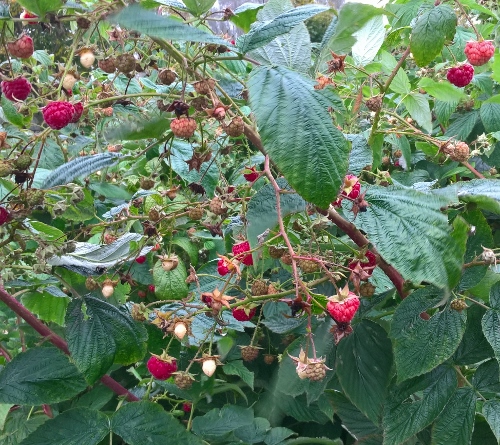 We have been busy harvesting these weeks: raspberries, those delicious bits of goodness, as well as endless piles of tomatoes, a study full of apples, pails of sauerkraut fermenting on the counter, crispy fall salads, luscious melons, and so much more.
Now that I have better balance, doing all these things is more possible.  We are so thankful, not only for the food but also for the ability to harvest and preserve it!
We ask God for health and for food.  He gives them, but I've been realizing again how much he makes us work for them, and how the work is part of the answer to our prayers for health.  Yes, our garden is full of healthy food, but the planting, weeding, caring, picking, and preserving each contribute to health as well.  Sun, fresh air, gentle exercise, and the beauty and smells of growing plants are blessings as much as the harvest is, even though at times we see only the work.
This thanksgiving week, I give thanks for the food we were able to grow and for the work we were and are able to do for it.
I am also pondering how all this relates to the biblical command to work out our own salvation as I continue to work out my own health and our harvest.  Somehow the gift and the duty are so closely related that they are aspects of the same thing.
I pray that we all may see what God has given us to do and then do these things wisely and well, realizing that the work and duty themselves are a gift, not just a means to God's gifts, and that without God's care we would not have the ability to work, nor the work itself, nor its results.
So, let's be thankful and let's get working!  May God bless us all.
—
Related posts:
The Best is Yet to Come —for when it feels like there's not much in your life to be thankful for.
—
If you enjoyed article, you might want to follow me on Google+, where I mention helpful or interesting ideas, friend me on Facebook where I occasionally show up, or connect with me on GoodReads where I eventually share what I read. 
This article may be linked to Inspire Me Monday, Raising Homemakers, Friendship Friday, Make My Saturday Sweet.