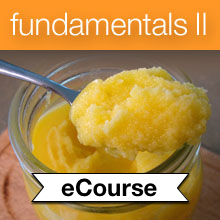 For years we have been interested in traditional cooking.  It began, I think, with the repeated reading aloud of Laura Ingalls Wilder's books, one of which we read aloud (and lost) on the plane as we moved to Europe two decades ago.  It went on to an interest in medieval cookery, and it is continuing with hands-on courses from the online Traditional Cooking School.
Earlier I reviewed Fundamentals I, a clear guide to everything from soaking and sprouting seeds to making kefir, sourdough bread, natural pickles, and cheese.
Fundamentals II: More Basics of Traditional Cooking by Wardeh Harmon is not as overwhelming as Fundamentals I, with fewer new techniques to learn and supplies to invest in.  What it does is provide information, encouragement, practical tips, and dozens of recipes, as well as extend the learning of the earlier course.
The course begins by discussing equipment for the traditional foods kitchen, some of it common and some very novel—have you ever heard of a spurtle?—and reminded me that wooden spoons would be very helpful.  We threw out our well-used ones a decade ago when I was diagnosed with celiac disease, and have never replaced them.  Last year I got a beautiful enamelled pan that cannot handle metal spoons and, of course, wood, not plastic, is the right choice.  (Fundamentals II often spurred me on to little changes like this, usually in a similarly round-about way.)  The equipment section includes a list of resources with links, but whenever possible Wardeh also gives alternatives to purchasing something new; she is, after all, an everyday mama with a budget, just like the rest of us.
A detailed discussion about natural sweeteners with scrumptious-looking naturally-sweetened dessert recipes follows.  We have not tried many of these recipes since we eat few sweets besides fresh fruit, the very occasional taste of dark chocolate or molasses, and birthday cake a several times a year.  Still, it is good to know more about the different sweeteners for when we do want to use them.  For example, the peanut butter cup recipe is healthier than the one that my daughter and her friend currently use.
Fats are a controversial topic in today's society and this course discusses the essential details.  I had previously read The Big Fat Surprise and skimmed Nourishing Fats and Wardeh says similar things and makes them practical with a seven step check list and a chart of which fat to use for what.  If you are new to the idea that fat is actually essential for health, rest assured that it relies on valid research and check out my brief comments on the two books mentioned above.
Wardeh also gives helpful information about meat, corn, salt and superfoods.
Practical lessons include more on making stock, as well as advanced grain preparation methods, travel hints, and many recipes for seasonal vegetables, organ meats, dressings, and snacks.  Once I shook my head—no, one should not cover potatoes with water to boil them and then toss the nutrient-rich water—but the vast majority of the information is excellent, aligning with what I had learned elsewhere and making it more practical.
In conclusion, the authors write, "…we hope that this journey has deepened your relationship with the Creator of the universe, our Lord and Savior, Jesus Christ—and that you share the hope that one day, all the cares of this world will be gone as we live and rejoice together in eternity."
Using Fundamentals II
There is so much in this course—videos, printed material, links, recipes, suggestions—that it is easy to get overwhelmed.  At the beginning of the ebook, there is a checklist to help you be organized about what you are doing, and that makes a difference.  I also found it very helpful to print out the ebook, write notes in it, put an action list at the end of each chapter, and mark those pages with sticky tabs.  In my review of Fundamentals I , I included a list of practical tips for using the course, and many of them apply to this course as well.
I have discovered that I really like the ebook that accompanies each Traditional Cooking School course.  I watch the videos about new techniques eagerly, but the less hands-on videos do not benefit me as much as the ebook does.  For a visual or auditory learner, however, they would be ideal.  The extra links in each lesson are also practical and lead to all sorts of interesting rabbit trails.
Has Fundamentals II changed the way we eat?
We still don't make ghee or render animal fat or buy grass-fed meat (although we have a bit of this treasure in the freezer).  We do not cook with fermented grains though  I long to convince my children that oatmeal soaked with yoghurt, which is what I recall being prepared on my grandmother's counter, is delicious.
On the other hand, I am more confident about fish stock, we make our own salad dressings again, and we enjoy the beauty and flavor of pink Himalayan salt. We add raw apple cider vinegar and lemon juice to our sparkling water, use garlic more generously, and make so much stock that we rarely use extra water in our soups.
Furthermore, I learned more about many things, each of which could be a project in itself:  how to use fats the traditional way, how to make healthy crackers, gluten-free Ethiopian bread, corn tortillas, and lacto-fermented ketchup and mayonnaise, and which superfoods could benefit our family.
How does Fundamentals II apply to homeschooling?
Obviously, good health is a foundation to optimal homeschooling, so that's a huge part of it.  However, teens can also take the course to learn traditional cooking skills and whole food preparation; there is even a quiz to measure learning formally.  What's more, learning about traditional foods also gives teens a unique grounding in historical food preparation techniques, something that one of my daughters actually encounters at academic medieval history conferences.
Is Fundamentals II from Traditional Cooking School worth it for you?
If you have a teen who wants to study traditional cooking for homeschool or if your family has health challenges, absolutely!  This course (and Fundamentals I) will be perfect for you.  If you currently cannot commit to learning the material, obviously it is not for you right now—although if your inability to take the course is related to health reasons, then I encourage you to drop something else and try it; it could make a difference in your health.  If you already are an accomplished traditional foods cook, then you will not need this course, but you might enjoy the company of other traditional cooks in the Facebook group.  In general, most of us can learn a lot from Fundamentals II, and if we apply its lessons then it will benefit our families.
Finally, if you have not already taken Fundamentals I, I encourage you to do that first (you can read my review of that course here).   In fact, the courses are now sold together.
—
If you enjoyed this article, you might want to follow me on Google+, where I often mention helpful or interesting ideas, friend me on Facebook where I show up once in a while and am still a newbie, or connect with me on GoodReads where I share what I read. 
Disclosure:  I have received a free membership to Traditional Cooking School in order to review several of the courses.
This article may be linked to Inspire Me Monday, Raising Homemakers, Friendship Friday, Make My Saturday Sweet.