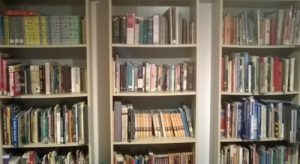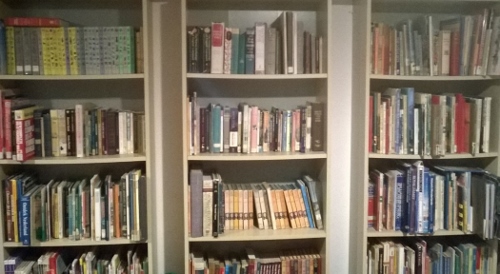 One of my favorite homeschooling activities over the years has been reading aloud to my kids, whatever their ages. Sometimes it seems as though reading aloud is just one more thing to do, but it actually saves homeschooling time and effort. It is certainly one of the most efficient and effective ways to learn. It can encourage our children in their more formal studies. It can give them context for the other things they learn. It is also a great way to relax together, to reduce cabin fever, or to redirect a bad day. And, finally, it is an excellent way to bond.
We have enjoyed an enormous number of books together through the years, ranging from picture books to adult biographies. Recently my teens and I finished a lively history of the Dutch fight against the sea, Of Dikes and Windmills by Peter Spier. Next we will likely reread an old favorite children's book, Snow Treasure by Marie McSwigan about World War 2 in Norway. After that, maybe Chesterton's Father Brown, or perhaps a few more nostalgic trips into beloved children's books.
Our favorite method of learning foreign languages includes reading aloud, too. At first I need to do a lot of translating, later I only explain a few main words, and eventually we just sit down with a good, thick book and enjoy.
If you are new to reading aloud, choose any book you loved as a child (I find older books make much better read alouds, for whatever reason), sit down with your kids, and just start reading. We read the Bible aloud after every meal, and that is always an excellent thing to do. For more suggestions, check out our list of Top Twenty Books For Families to Read Aloud. I wrote a Reading Aloud Pep Talk almost a decade ago. Since then I have discussed reading aloud and have shared our lists for 2011-2014. If you want to check out our more recent read alouds, quite a few of them are on my GoodReads read aloud shelf.
Reading aloud is so simple: Just start, and then fit in a bit every day or two. Enjoy!
That was my contribution to "The Read Aloud Homeschool," a recent feature at The Curriculum Choice. It's worth reading the rest of the article as others discuss their families' reading aloud adventures:
Alison explains how to keep kids engaged while reading aloud.

My children have drawn pictures, practiced making knots, crocheted afghans, braided their hair, shelled beans, and so much more while I read aloud; Alison shares dozens more great ideas for both little ones and older kids.

Heidi talks about books for little ones

, from her family's top 10 to series books with a printable. The books I read with my little ones became their favorites and even now I am 'not allowed' to pass them on because they are just too special. So choose these books carefully!

Tricia describs how her family combines reading aloud with chalk pastel studies.

She also enthusiastically promotes our family's idea of reading week. (As a writer, I love hearing how my writing has benefited other families, so thank you, Tricia!)
I wish you joy as you read aloud with your family, no matter what their ages are!
—
If you enjoyed this article, you might want to connect with me on GoodReads where I eventually share what I read or friend me on Facebook where I occasionally show up. 
This may be linked to Literacy Musings Monday, and The Book Nook  as well as to Inspire Me Monday, Christian Homemaking, Friendship Friday, Make My Saturday Sweet.