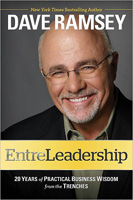 As a homeschooling mother of teens, I was looking for a practical, insightful book about business. I wanted my teens to have at least some exposure to the business world and all it entails, and I wanted them to learn from a Christian.
Well, I couldn't have found a better book for all this than Dave Ramsey's EntreLeadership. Subtitled 20 Years of Practical Business Wisdom from the Trenches, this book shares many of Dave's fundamental ideas. Dave is someone you can really learn from. What's more, he's someone you really want to teach your teens. On top of that, many of his topics apply to life outside business and could be life-changers for your teens.
Here's what Dave talks about. You'll notice that the majority of topics apply to your teens even if they not business oriented.
Dreams, mission statements, and goals. "Goals are visions and dreams with work clothes on." You need to set thoughtful goals in seven areas of your life.
Time management and organization. "All of us can spend time doing ridiculous things that are a complete waste of time simply to avoid going outside our comfort zone." Focus on doing what's important, and clean up your desk. Work on managing activities, not results.
Making hard decisions. "…some of the most stressed people on the planet are people who are frozen by indecision." Learn the causes of indecision and how to make wise decisions.
Marketing "A lot of beginners in business think of marketing merely as selling." Intentionally create a multilayered, multifaceted plan and remember to be like the diligent farmer who works hard and asks God to send the rain.
Launching your dream. "The best part-time job is very possibly a small business idea." You've got to know the 'why' of your business, because as Simon Sinek says "people don't buy what you do, they buy why you do it."
Hiring, firing, and personality styles. "Business is easy…until people get involved."  Twelve steps to a good hire, how to let people go, how to reprimand them—these don't seem relevant to teens now, but anyone needing to deal with people will benefit from the wisdom of this chapter.
Selling by serving. "Ultimately everyone is in sales."  In other words, we all try to convince people of things. This is a fundamental aspect of human interaction. The focus in this chapter is on meeting people's needs and on serving them with your product or idea. It's on understanding how to be persuasive and understanding the steps of convincing someone.
Money, debt, and funding for your business. In the crash of 2008, Ramsey discovered that he was not panicking or even afraid, "because I run my life and my business by commonsense biblical and financial principles."  Learn a few very simple practical steps for providing financial peace for your business.
Communication. "One of the hallmarks of winning companies is they are very intentional and effective at communication."  Since this is true for any group of people, including families, this may well be one of the most important chapters in the book for anyone, teen or adult, business person or not.
Building unity and loyalty. Because "people matter most."  Integrity is crucial, and so is removing the five enemies of unity.
Recognition and inspiration of your team. "…it is time for you to do a better job with recognizing and inspiring your team, yourself, and your family."  This all makes sense, but it is so easy to forget the little details involved with showing appreciation, acceptance, approval, attention, and affection.
Contracts, vendors, collections. "People who are crooks will crook you even if you have a contract."   Even so, you need to know how contracts, vendors, and collections work.
Compensation plans. "…be generous to the people who cause you to win."  Learn about compensation options that fire different personalities up.
Delegation. "Leaders can only delegate to someone to the extent the leader is mature and the team member is mature."  Talent is not enough; you need to train the person and be confident of his or her integrity and competency.
In conclusion, Dave says he hopes his book is a great leadership book that anyone aspiring to lead well should read. He also hopes it's a handbook for someone wanting to know how to start and run a small business.   I'd suggest it's also a book that will give your teens some understanding of business, ethics, and life.
My teens read it and were exposed to all its concepts.  Certain aspects really resonated with them:
Mr. 16 pointed out that is a book about ethical capitalism, good for anyone who's going to be a leader.   "And will you become one?" I wondered.  "That's part of growing up," he told me.
Miss 14 decided that Dave Ramsey wouldn't want to hire her and that she wouldn't want to work for him because she's just not fired up about his company. Understanding the importance of employer-employee fit is a valuable concept for one so young.
Miss 9 saw an audio book version my husband had lying around and brought it upstairs to listen to while playing. She loves Dave after having listened in on his Foundations in Personal Finance curriculum.  Anything he says goes with her…and that`s why I`m so glad I can trust Dave.
Our teens will re-read EntreLeadership each year.  I expect them to notice and learn different things about business and life each year.  There really is too much advice in this book for anyone to absorb on the first reading, and that`s why I hope Dave will use this book as the basis for a high school course similar to Foundations in Personal Finance.
In conclusion, EntreLeadership is highly recommended as a high school resource, as well as for leaders and business persons.
Disclosure I received a review copy of this book in order to discuss its relevance to teens.
This is my third book in the in the 2012 52 Books in 52 Weeks Challenge.