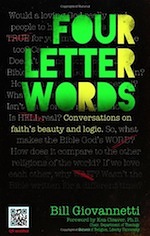 Four letter words.  We all know them and avoid them.
But what about the new four letter words?  The ones that used to be innocent but now tempt post-modern people to reach for a bar of soap to wash out our mouths?
What about words like true, know, pain, ouch, evil, Word, damn (OK, this one is on the old four letter word list too), wait, and hope? When Christians use these in discussions with non-Christians, they often run into trouble.  But we may not know why people are offended, nor how to address their concerns.
Bill Giovannetti's brilliant book Four Letter Words: Conversations on Faith's Beauty and Logic explains the post-modern mindset by listing "Touchy Ideas" and "Touchy Scriptures".  Then it goes a step further and clearly explains the biblical point of view.  This explanation will help you understand both your friends' objections and the Truth.  To conclude each chapter, "Talking Points" will help you show your friends the Truth…even though they may deny that it exists.
Clearly, colloquially, and personally, Giovannetti touches some of the deepest points of the Bible and traditional apologetics.  His aim is to equip believers to witness to their unbelieving friends.   He teaches how to lovingly encourage post-modern people to question their ideas and opinions so that they may be open to God's Word.  A "Discussion Guide" at the end of the book aims to help Christians understand both their friends and God's Word.
Here are a few of the "Touchy Ideas" that Giovannetti explains and defends:
Some ideas are true and some ideas are false. (true)
Everybody has faith—it's just not always in true things. (know)
God can stop pain but he doesn't. (pain)
Pain is the inevitable consequence of living far from God. (ouch)
Some actions are right and some actions are wrong. (evil)
The Bible is the inspired Word of God. (Word)
Love can`t win if holiness loses. (damn)
Sex creates emotional bonds that can haunt you when you break them. (wait)
I have God in my life, through Christ alone. (hope)
This book will help Christians personally as well as help them evangelize their friends.   For example, here's part of the conclusion of the first chapter about truth:
"… you have access to abiding truth for all times and places, through the written Word of God.  You don't need to apologize for it. You don't need to water it down or hide it.  God will prove his truth.  That's his job.  Your job is to learn it, understand it deeply, love, it, communicate it, and live it.  The truth is all about Jesus.  To love truth is to love Jesus."
Giovannetti is relevant and right. He will help you understand others and reach out to them effectively.  He may even answer some questions you`ve been wondering about yourself.  I highly recommend Four Letter Words for teens and adults.
The website is a treasure trove of helpful resources.  Do visit it.  Smartphone users can access these resources, videos, audios, or websites by scanning the QR code with their smartphone after installing a free QR app.
Get more  information, including the first chapter, from the Four Letter Word website, read more reviews here, and  buy the book here.  (Later addition:  read an interview with Giovannetti .)
Disclosure: I received a free copy of Four Letter Words from Litfuse in order to give you my honest opinion.
Four Letter Words is my seventh book in the 2012 52 Books in 52 Weeks Challenge.  For more inspiration, visit No Ordinary Blog Hop, Encourage One Another Wednesday, and Women Living Well Wednesdays.