My goal for elementary school French is to have the children spend about 10 minutes a day, every school day, exposed to spoken French.  I want them to become familiar with vocabulary, the sound of the language, and some of its sentence structures. Most of all, I want them to enjoy it and feel a sense of accomplishment in it.  These different aspects form a solid basis for our formal French studies that begin in grade 7.
Therefore we use many resources for elementary French, and one of them is the French and English Word Book.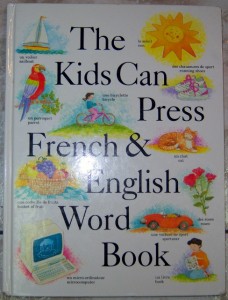 This sunny book teaches children more than 500 common French words using beautiful illustrations.  Most words are taught in the context of a detailed scene about topics such as "In my backyard,"  "Barbecue time," "A day at the zoo", and "Good morning!"  Other pages contain words about opposites, colors, family members, and breakfast time.
After 45 colorful pages, the book presents an unusual word list.  Only the English words are given in this list, along with the page number they occur on.  It would have been helpful to have a French list as well, but since we rarely use word lists, this does not really affect us.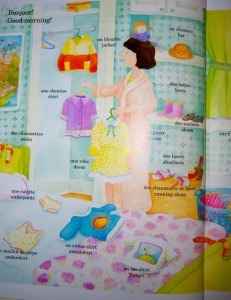 How We Use It
For our French time, the Little Misses (ages 9 and 11) and I snuggle on the couch and go through a few pages of The French and English Word Book (as well as The French and English Phrase Book).  I read the word aloud, they repeat after me, and then we proceed to the next word.  Since the English is written just below the French, and since we've gone through this book before, I do not need to translate anything for them.
Every once in a while the girls ask for a test.  Then they sit opposite me and I read the English to them; they respond with the corresponding French words.  Since my language goals for this age involve familiarity with and exposure to French, these are very low-key tests and the girls enjoy them.  Once they know a page well, we only review it occasionally.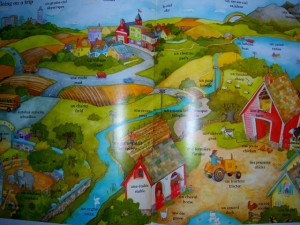 What We Think of It
Every time I sit down with the Little Misses to read this book, I look forward to Linda Hendry's cheerful illustrations.  With sunny colors, happy vignettes, and an obvious love of living, she fills The French and English Word Book with joy.  My girls love this book and look forward to French time.  My older children enjoyed it too, when we used to study it at the dining table right after lunch.
With 500 common words, this is a great introduction to French vocabulary and helps to lay a useful foundation for the formal study of French.  I also find it a good review for me to go over these words regularly and to share any interesting words with my teens.  There's fun for all of us in rediscovering, for example, that a lion's fang is called a 'croc,' which probably has something to do with the word 'crocodile'….  And what is fun is more easily remembered.
Although the Phrase Book is wonderful too, the Word Book has the advantage of teaching only one word at a time.  This really helps with vocabulary mastery, and in turn makes the Phrase Book more effective.  Ideally you would use them both.
Our family loves this book. We highly recommend it to other parents teaching their children French.
Note: To use this book you need to know how to pronounce the French words.
The Kids Can Press French and English Word Book is available from Amazon, but may also be in your library.
Disclosure: I have used this book for many years and am not compensated in any way for this review.
— This review is linked to Read Aloud Thursday.