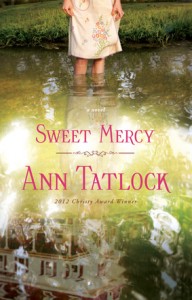 Tired of living in a gangster town and horrified by criminal activity she has witnessed, Eve Marryat is thrilled to be moving to a more respectable place, a little town called Mercy.  Her father has been laid off from the Ford Motor Company, so now Eve and her parents are going to work for her Uncle Cyrus who owns the Marryat Island Ballroom and Lodge, a decent place where 'good people' like them will feel at home.
Soon pretty Eve meets handsome Marcus, and gets to know some of the interesting people around the town of Mercy.  One of them is Jones, a unique cousin she's never heard of; another is an intriguing and likeable tramp called Link.  All seems perfect until Eve discovers that Mercy also has its unsavory characters.  Bootleggers.
The year is 1931; Prohibition is in full swing; and Eve is seventeen.  How will she reconcile her youthful self-righteousness with reality?  When will she understand that she, too, needs God's sweet mercy?
An unusual coming-of-age story, Sweet Mercy explores what happens when the government imposes laws that have no basis in God's law: suddenly most people are criminals.  It also exposes the self-righteousness of the young who in their innocent arrogance understand neither God's mercy to themselves nor how to show mercy to those around them.  It explores concepts of right and wrong and judgement, and the meaning of original sin.  But most of all, it is an exciting story with difficult decisions, real people, and a superb plot.
I highly recommend Sweet Mercy to older teens and adults as a book worth owning and rereading.  Its literary quality is such that it could even be studied for a high school English class.  Ann Tatlock, one of the best Christian writers of today, also wrote Traveler's Rest which I reviewed last year.
This is yet another book in the in the 2012 52 Books in 52 Weeks Challenge, and is also linked to Saturday Reviews.
Disclosure: This book has been provided courtesy of Baker Publishing Group and Graf-Martin Communications, Inc. and is available at your favorite bookseller from Bethany House, a division of Baker Publishing Group.