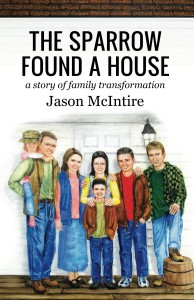 It's not often that practical Christian lifestyle ideas are successfully presented in a novel, but Jason McIntire makes it work in The Sparrow Found a House: a story of family transformation.
From the back cover:
What if your new stepdad was a Bible-toting Army Sergeant?
Fifiteen-year-old Jessie Rivera is living every teenager's nightmare.  Her widowed mom has married a man who wears his heavy Christian values like his sergeant's stripes—on both sleeves. 
Glenn Sparrow is persistent, immovable, and not afraid to be firm.  Worse than that, he's loving, kind—even fun—and he has Chris, Moe, and Katie completely won over.  But Jessie is determined that she won't be won over, or give up her "freedom" without a fight.  She knows what she wants, and it isn't what they've got. 
Or is it? 
Jessie has held the fort down well while her mother and new-stepfather were on their honeymoon…but it sure did not seem like it when they came home and faced hissing car tires, a cell phone boiling with a chicken in the sink, and Chris's bruised face.
However, their new dad is not upset; instead he apologizes for leaving them alone for two weeks and promises that—and a whole lot of other things—will not happen again.  Jessie does not want to ruin her mom's happiness but, really, devotions in the evening and all the other changes are a bit much.
A camping trip, a dangerous grandma who hates homeschooling, intruders, a farm, and more combine with the family's new values to make a realistic novel that is fun and thought-provoking for the whole family and an inspiration for parents.
You can buy this book from the Elisha Press website , or download an ebook free directly from the site.
Disclosure:  I received The Sparrow Found a House from Jason McIntire for the purpose of this review.  I am not compensated for this review in any way and refused a personalized referral link for the giveaway.