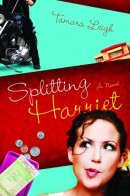 This summer I picked up an unlikely read, Splitting Harriet by Tamara Leigh.  And I'm very glad I did.
Harri Bisset, first a preacher's kid, then a rebel, put her bad lifestyle behind her eight years ago after a showdown in a biker's bar.  She turned to God, and now fights her nicotine cravings with Jelly Bellys, reads through the Bible every year, and is even the director of women's ministries at her old church.  She also waitresses at a café she is saving to buy (her big, big dream), and in her spare time she befriends the senior citizens in her trailer park.
But those new changes in her church, like replacing the organ with a band, remind her of the acrimonious split that disillusioned her about the church so many years ago.  Hmmm, had that really been the reason she left? And how would her dear senior citizen friends feel about the changes?
And what about Maddox, the newly-hired church consultant who had once been kicked out of seminary but now served the Lord?  How dare he drive a motorcycle?  Didn't he know what kind of lifestyle that represented, what it could lead to?
Even more importantly, would Maddox and all his changes revive the old, rebellious Harri, the one she was so afraid of?  Could God really change her so that she would not have to hide in a senior's trailer park eating Jelly Bellies the rest of her life?  Had God really forgiven her?  Completely?  Or wasn't there actually some kind of footnote to the Bible promises making an exception in her case, because she should have known better and because she had done so much wrong?
Never did I think to understand justification and sanctification more deeply while surrounded by a pink motorcycle helmet, a cranky organist, curly-haired Maddox, The Coroner reruns, and grumpy cats.  But the Holy Spirit works in the mess of real life, and that's a good thing for all of us.
Splitting Harriet is fun, thought-provoking, and definitely worth reading.
This is yet another book in the in the 2013 52 Books in 52 Weeks Challenge and is also linked to Saturday Reviews, and Encourage One Another Wednesday.
Disclosure:  I borrowed this book from the library and am not compensated in any way for this review.