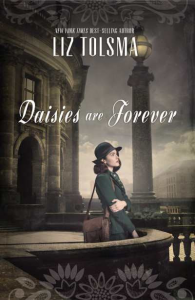 Twenty-year-old Gisela Cramer, an American, is living in a nightmare.  In 1945, as the Third Reich is crumbling, Prussian Germans are fleeing west, always west, to escape the cruelty of the invading Russians.  Gisela is among them, taking along her cousin's two daughters, her Opa's best friend, two senile sisters, a disguised British POW, and her own anguished memories of a previous invasion.
Slowly her ragtag group struggles on, but in front of them lies a wide lake.  Russian planes attack, food supplies dwindle, and Mitch, the POW she saved by claiming to be his wife, will not keep his mouth shut and his British accent hidden even when a German war hero joins the group.
When they finally get to Berlin and find her Mutti, Gisela finds her troubles have barely begun….
Some parts of Daisies are Forever hardly bear thinking about.  War involves so much suffering, so much brutality!  Yet the book's complicated romantic conflict brings some lightness and the dear senile sisters add a small dose of humor.  It is God's nearness, however, exemplified by the precious dried daisy from Opa, that brings comfort to Gisele and the others—and also to the reader.
Liz Tolsma's ambitious novel is memorable and moving.  It is also wise, reminding us that saving the world is not our job but God's, and that we are not responsible when our efforts are ineffective.   Despite a few stylistic issues, I highly recommend Daisies are Forever for older teens and adults.
Caution:  Wartime suffering and brutality are presented vividly although not graphically.

For more reviews of Daisies are Forever, see the Litfuse blog tour.  This is yet another book in the in the 2014 52 Books in 52 Weeks Challenge, and is also linked to Saturday Reviews. 
Disclosure: I received a copy of this book from LitFuse for the purpose of this review and have presented my honest opinion.