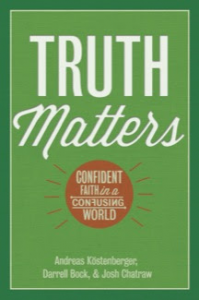 Truth matters.  What you believe about the ultimate questions of life, death, God, and our purpose makes all the difference in the world… and not only for today.
But what is truth, and how can we know it?  Long ago Satan confused Eve with his half-truth, and he has been confusing people ever since.  Nowadays, however, he no longer uses a snake.  Talented atheists like high school teachers, university professors, and authors will do just as well.
That is where this little book comes in handy.  Issue by issue, the authors of Truth Matters: Confident Faith in a Confusing World expose the half-truths behind some of the most common objections to the Bible.  In simple language they cover the following topics
Is God there and does he care?
How did the New Testament develop?
What about all the contradictions?
But all we have are copies, not the original!
How did orthodox Christian thought arise?
How do we know Jesus rose from the dead?
Written in a conversational style, Truth Matters addresses young people, showing them the half-truths some atheists use to discredit the Bible and destroy their faith.  It is clearly written and would do well as a high school text, a college group study guide, or a resource for anyone who is challenged by the many smooth-talking opponents of the Bible.
I highly recommend this book for all young people, for the adults who love them, and for anyone else who deals with opponents of the Bible.
This is yet another book in the in the 2014 52 Books in 52 Weeks Challenge and is also linked to Saturday Reviews, Trivium Tuesdays, Finishing Strong , Works for Me Wednesdays, Booknificent Thursdays, and Raising Homemakers.
Disclosure: A copy of this book was provided by B&H Books for the purpose of this review; the review represents my own honest opinions.