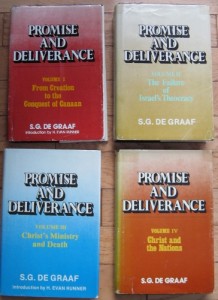 It can be difficult to find a quality narrative Bible curriculum for teens and adults. The four volume Promise and Deliverance series by S.G. De Graaf, first published years ago, is still among the best. Many years ago Christianity Today called it "A landmark in interpreting the simple stories of the Bible" and that assessment is as valid as ever.
For years the author, Reverend De Graaf, led a weekly class for those who taught Bible to children, both at Sunday schools and at day schools. This book is the fruit of repeatedly answering the question, "How do we tell this Bible story?" and is helpful for teachers of little ones, for teens to study on their own, and also for anyone else who wishes to study the Bible.
So what is so special about the Promise and Deliverance series?  It focuses on the meaning of each story and on how to understand and share it….
—
You can read the rest of this review, with the links to  free downloads of all four volumes of Promise and Deliverance, at the Curriculum Choice. 
—
This review is linked to Saturday Reviews, Booknificent Thursdays, Raising Homemakers, Finishing Strong , and Trivium Tuesdays.