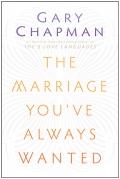 Gary Chapman, popularizer of the 5 Love Languages concept, has reworked an earlier book, Toward a Growing Marriage, into this helpful manual.  He states that the goal of marriage is a deep, total union of a couple on all levels—intellectual, social, spiritual, emotional, and physical.
From a Biblical viewpoint, Chapman deals with all the usual marriage topics and a few more:
What people expect from marriage
Why people have a hard time changing, and what to do about it
What love really is
Communication, its importance, and common difficulties
Practical life, i.e. who does what around the house
Making decisions
Sex
Parents and In-Laws
Money
At the end of each chapter there's a list of questions to help both spouses apply what was discussed. Of course, it would be ideal if both spouses were to go through the book together, but even if one spouse learns from this book, a marriage will improve.
This book is practical while also discussing background causes—as well as solutions—for common difficulties. Over and over, Chapman points people to the Bible, but he also gives simple rules he and his wife live by such as, "When you are upset take turns 3-5 minutes long to talk without interruption, for as long as it takes to deal with the issue."
However, this book is not only about marriage; it's also about living a Christian life because that is the foundation to meaningful Christian marriages. Chapman helps people think about their own sins rather than their spouse's, and he says: "Discipline yourself to live with a clear conscience toward God and your mate."   In fact, he asserts that the number one principle of mental (and hence marital) health is to confess your sins and keep your conscience clear.  He also reminds us that we can only change because of the Holy Spirit's work in our lives and that the fruits of the Spirit are not the fruits of self-effort.
This is our 25th anniversary year and, providentially, it also seems to be my year for reading and reviewing marriage books.  Having read 6 marriage books within a year (listed below), I cannot help comparing them, and need to add a few caveats to my recommendation of this otherwise excellent book.
In the introduction, Chapman introduces a few sobering statistics about marriage—the very ones Shaunti Feldhahn has just debunked in her excellent book The Good News about Marriage. (I suppose that happens when books are published at about the same time.)  However, although Chapman does not belabor the gloominess, he does seem more pessimistic about the possibilities of change than Feldhahn in her other book The Surprising Secrets of Highly Happy Marriages. And, while Chapman is very practical in some chapters, The Surprising Secrets is much more hands-on.
Also, Feldhahn encourages people to be realistic in their expectations and ask only for what a spouse can give; Chapman encourages them to aim for perfection. No wonder, if he aims for perfection, that he finds so many 'problem' marriages.
These three books would make good companion volumes, with Chapman's The Marriage You've Always Wanted providing the Biblical basis and Feldhahn's two books the practical aspects and the proof that a good (not perfect) marriage is not only possible but, for a church-attending couple, quite probable.
Other resources are available to accompany this book for small group or large event experiences.
Note that Chapman is touring Canada this fall. Locations and dates are available here.
—
Here is a list of the other excellent marriage books that I have read and reviewed in the past year:
The Surprising Secrets of Highly Happy Marriages,
The Good News about Marriage , and
The Meaning of Marriage (review coming soon).
—
This is yet another book in the in the 2014 52 Books in 52 Weeks Challenge and is also linked to Saturday Reviews, Works for Me Wednesdays, Booknificent Thursdays, and Raising Homemakers.
Disclosure: A review copy of this book has been provided courtesy of Moody Publishers and Graf–Martin Communications, Inc., and is available at your favourite bookseller from Moody Publishers.  As usual I am not compensated for recommending any of these resources.