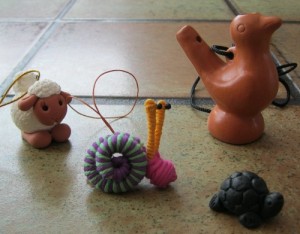 We in Canada and the US have the wonderful custom of devoting one autumn day to giving thanks for all the good things God has given us.  Of course, this day should set the tone for our whole lives, especially since we are so blessed, materially, in comparison with the rest of the world.
One of the things that strikes me about stories of people in third world countries is how thankful they are for their blessings even though they have so little.  And, although they struggle for daily food and shelter, they are often so generous with what they have.
As North America heads into the frenzy of Christmas shopping, it may be worth considering how we can translate the ideals of our Thanksgivings into this season of materialism.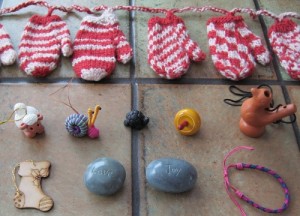 One way is to purchase fair trade gifts, gifts that bring fair wages to the third world artisans who crafted them.
My favorite fair trade company has always been Ten Thousand Villages.  This wonderful store sells all kinds of gifts, from clothing to home décor to Christmas ornaments, and even chocolate.  They sell inexpensive knick-knacks like the ornaments pictured here and pricey one-of-a-kind works of craftsmanship from countries throughout the world.
This is the second year that I have been surprised by a gift from Ten Thousand Villages in recognition of my reviewing efforts with Graf Martin Communications.  And that leads me to give thanks:
Thank you,

my dear readers, for reading and sometimes even commenting.  Without you and your friendship, this blog would be nothing and my life would be much poorer.

Thank you,

Ten Thousand Villages for your important ministry to artisans throughout the world.  You have built bridges of compassion between cultures and given many artisans an income.  And thank you for the sweet decorations and knick-knacks you sent.  Our family especially loves the two stones, Love and Joy.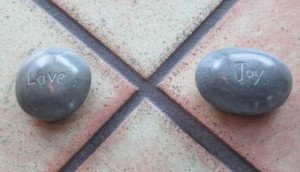 Thank you,

Graf-Martin Communications, for your diligent work in promoting Christian books and resources and also for honoring me in this special way.

And, above all, thank you

dear Lord for giving me the opportunity to blog and review, which is such a wonderful way to connect with people, to encourage them, and to share information about helpful resources.
Dear friends, as you do your Christmas shopping this year, I encourage you to check out fair trade stores for a gift that gives twice.  To locate a Ten Thousand Villages store near you or to browse and shop online, visit their Canadian or American websites.
—
I wrote about Ten Thousand Villages last year, too.  The lovely paisley stole I got then still keeps me warm almost every time I venture into the cold.
Disclosure:  As a top reviewer with Graf-Martin, I was given the gifts pictured above with no obligation to write about them.  However, I love Ten Thousand Villages and want to let other people know how they can give Christmas gifts to their loved ones while supporting artisans in poorer countries.
This post is linked to Works for Me Wednesdays, Raising Homemakers,  Mom to Mom Monday, Missional Weekend, and R&R Wednesdays.